China readies launch of space station pathfinder mission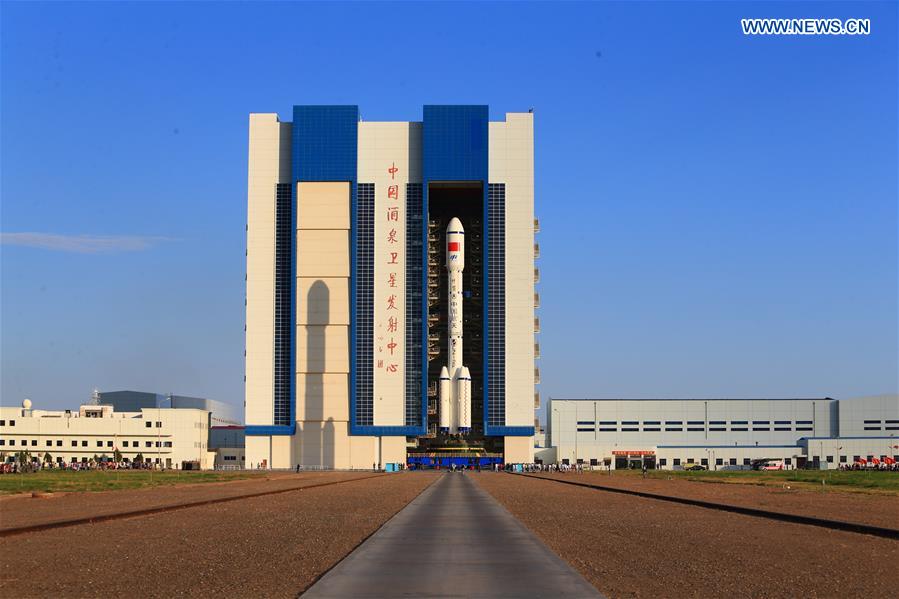 China is scheduled to launch a human-rated spacecraft the size of a bus Thursday, paving the way for a month-long visit by two astronauts in October and nudging the country's space program closer to building a large research complex in orbit by the early 2020s.
The Tiangong 2 space lab is set for liftoff at 1404 GMT (10:04 a.m. EDT) Thursday from the Jiuquan space center, a military-operated facility in the remote Gobi Desert of northwest China. Launch is timed for 10:04 p.m. Beijing time.
With a launch weight of nearly 19,000 pounds — about 8.6 metric tons — the Tiangong 2 spacecraft is kicking off a two-year mission to conduct a slate of scientific experiments and lay the technological foundation for a Chinese space station set to be assembled in orbit several hundred miles above Earth by 2022.
Tiangong 2 will lift off inside the nose fairing of the Long March 2F T2 rocket, a 170-foot-tall (52-meter) launcher specially designed to support China's human spaceflight program.
China's latest space mission will demonstrate cargo resupply and propellant refueling procedures required for the country's future space station, and host an array of research experiments developed by Chinese and international scientists, according to senior space officials.
If all goes according to plan, two Chinese astronauts will launch aboard the Shenzhou 11 spacecraft in mid-to-late October in pursuit of the Tiangong 2 space lab. Shenzhou 11 will dock with the spacecraft to form a mini-space station, and astronauts will live and work inside the module for 30 days, officials said.
The Shenzhou 11 mission's total duration is slated to be 33 days, including flight time before docking and after undocking with Tiangong 2, according to Wu Ping, deputy director of the China Manned Space Agency.
That is more than twice the length of China's longest-duration piloted spaceflight to date, a 15-day expedition in 2013.
Wu said the astronauts, who have not been publicly identified, will conduct medical experiments, test out maintenance procedures, and help with other research investigations.
The Long March 2F T2 rocket, propelled by four YF-20B strap-on engines and another four engines mounted to its core stage, will fly to the east from Jiuquan atop 1.4 million pounds of thrust. A YF-24B engine package, comprising a single main engine and four steering thrusters, powers the Long March 2F rocket's second stage.
Here is a timeline of the launch:
T+00:00 — Liftoff
T+00:12 — Pitch and roll program
T+02:35 — Booster separation
T+02:40 — First stage separation; Second stage ignition
T+03:30 — Fairing separation
T+09:42 — Second stage shutdown
T+09:45 — Tiangong 2 separation
Email the author.
Follow Stephen Clark on Twitter: @StephenClark1.
Source: You'll find lots of information about the planets Mercury, Venus, Earth, Mars, Jupiter, Saturn, Uranus and Neptune. Also we have facts about the space station, ISS, SpaceX launch, space program, and outerspace. Space Flight
14 Sep, 2016
China readies launch of space station pathfinder mission

Posted in Space Flight and tagged Space News by cnkguy with no comments yet.