Falcon 9 succeeds in middle-of-the-night launch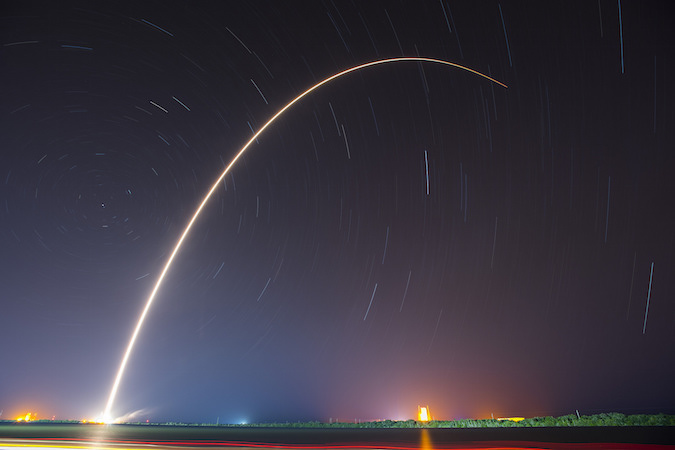 A Japanese communications rode a Falcon 9 rocket into space from Cape Canaveral early Friday, reaching an on-target orbit as the launcher's first stage booster nailed a high-speed landing on a platform in the Atlantic Ocean, logging another achievement for SpaceX's cost-cutting reuse initiative.
The successful satellite deployment marks the Falcon 9's fifth consecutive flawless flight in less than five months, and the rocket's 24th mission overall.
The rocket achieved its primary and secondary objective on Friday's launch, placing the JCSAT 14 communications satellite into orbit, and returning its booster stage to a purely experimental landing on a specially-outfitted ship floating in the Atlantic Ocean.
The 229-foot-tall (70-meter) Falcon 9 lit its nine Merlin 1D first stage engines, throttled up to 1.5 million pounds of thrust, and climbed away from Cape Canaveral's Complex 40 launch pad at 1:21 a.m. EDT (0521 GMT) Friday.
Lighting up a starry sky over the Central Florida marshlands, the Falcon 9 pivoted east from its launch pad, its blazing orange exhaust extending hundreds of feet behind it in a spectacle easily visible across the region.
The rocket surpassed the speed of sound about a minute after takeoff and streaked into the stratosphere before dropping its first stage at the mission's 2-minute, 41-second point.
The Falcon 9's single-engine second stage, fitted with an ultra-thin nozzle extension for better performance in the airless vacuum of space, ignited moments later to continue driving into orbit with the JCSAT 14 communications satellite, a new broadcasting platform for Tokyo-based Sky Perfect JSAT Corp.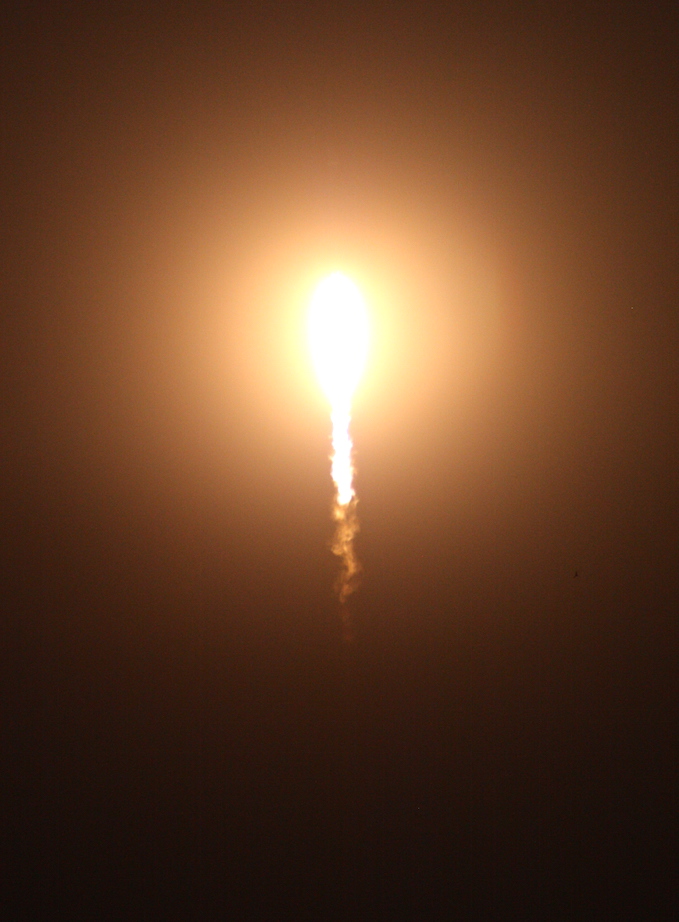 Around the same time, cold gas nitrogen thrusters on the first stage flipped the 15-story booster around and pointed its engines ahead, beginning a sequence of maneuvers to land the rocket on an ocean-going platform in the Atlantic Ocean.
A few minutes later, the first stage ignited three of its main engines for a re-entry braking burn.
The first stage booster, guided by GPS satellite navigation and steered with engine thrust and aerodynamic grid fins, aimed for SpaceX's landing platform, or drone ship, positioned about 400 miles (650 kilometers) east of Cape Canaveral.
SpaceX said before Friday's launch that a successful landing was unlikely because "the first-stage will be subject to extreme velocities and re-entry heating," more severe conditions than the Falcon 9 encountered on its last launch.
But live video from the drone ship and a nearby boat showed the Falcon 9 rocket illuminating the vessel's deck — about the size of a football field — as the booster approached the platform, dubbed "Of Course I Still Love You" after a sentient planet-sized starship in Iain Banks' sci-fi novels.
Three of the booster's kerosene-fueled engines fired up again in the final seconds of its descent, before settling on the landing ship.
"This is recovery, the Falcon has landed," exclaimed a member of SpaceX's launch team.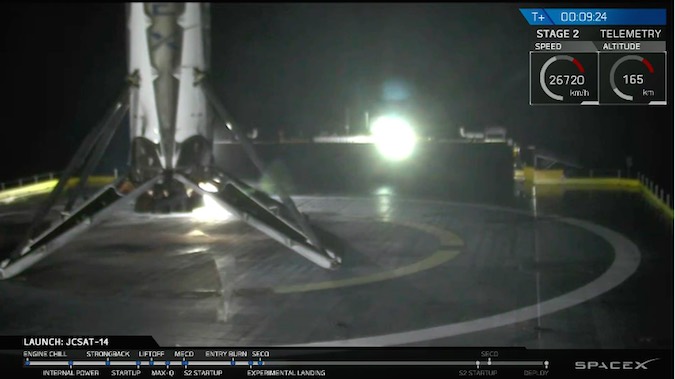 Images from the drone ship showed the rocket ended up near the bullseye painted on the deck.
The booster's intact recovery gives SpaceX a 3-for-7 record in its vertical landing attempts, which began in January 2015 with a crash landing on the drone ship. Engineers resolved several problems that plagued the untried recovery maneuvers, including an insufficient supply of hydraulic steering fluid, a stuck engine valve, and a disjointed landing leg, before logging the first successful touchdown at sea April 8 after a launch with a Dragon supply ship heading for the International Space Station.
JCSAT 14 needed to go to a much higher orbit, requiring extra speed and fuel from the first stage engines. That meant the rocket would descend back through the atmosphere faster, with less fuel to slow down for the final approach to the vessel.
In other words, the rocket had to slam on the brakes to nail the landing.
Instead of the single-engine landing burn directly above the drone ship, the rocket fired up three engines to slow itself for touchdown, tripling the deceleration experienced by the booster in the final moments of the flight. And the recovery maneuver omitted a "boostback" burn to direct the rocket toward the vessel.
Elon Musk, the company's founder and CEO, said on Twitter: "May need to increase size of rocket storage hangar."
SpaceX has three previously flown Falcon 9 boosters in stock now — including one that returned to landing at Cape Canaveral in December — with plans to fly one of  the vehicles a second time this summer.
No company has returned orbital-class rocket booster casings and engines to a vertical landing before. SpaceX hopes to slash the cost of space launches by reusing the Falcon 9's first stage.
Musk said last month about half of the Falcon 9's missions will fly missions that require a booster landing at sea. Only launches to low Earth orbit, with relatively light payloads, have enough fuel margin to return to land on the ground.
"It'll still take us a few years to make it smooth and make it efficient, but I think it's proven that it can work," Musk told reporters in an April 8 press conference after SpaceX's first rocket landing at sea. "There probably will be some (landing) failures in the future, but we'll iron those out and get to the point where it's routine to bring it back."
Musk said landing on a ship at sea requires less fuel, but is technically more daunting.
"It's sort of like a carrier landing vs. a land landing," he said last month. "It's a tinier spot, and it's moving."
As SpaceX celebrated the landing, the Falcon 9's upper stage pressed on, shutting off its main engine about nine minutes after liftoff after reaching a preliminary parking orbit.
The engine re-ignited approximately 26 minutes after liftoff, switching on and off like clockwork for a one-minute burn to deliver JCSAT 14 into a highly elliptical geostationary transfer orbit.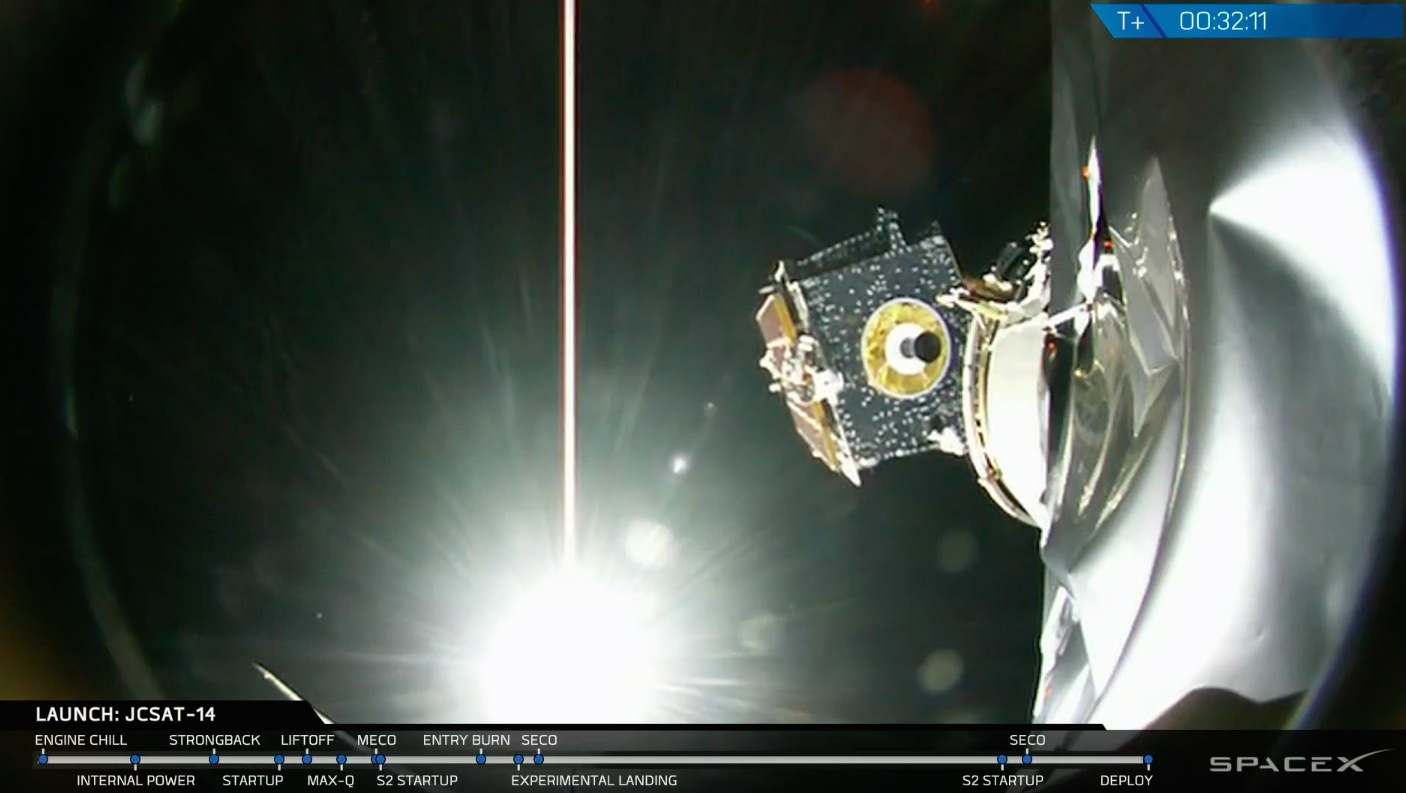 SpaceX confirmed JCSAT 14 deployed from the Falcon 9 upper stage about 32 minutes into the mission, as a rocket-mounted camera showed the satellite eerily floating off in the inky blackness of space.
Made by Space Systems/Loral in Palo Alto, California, and based on the SSL 1300 series design, the communications craft will use its own power to circularize its orbit at nearly 22,300 miles (35,700 kilometers) over the equator in the coming weeks.
A spokesperson for SKY Perfect JSAT told Spaceflight Now the new satellite should enter service in mid-July.
Valued at approximately $200 million, including the cost of the spacecraft and launch services, the JCSAT 14 satellite will broadcast from 154 degrees east longitude, where it will hover over a fixed location on the equator to extend and replace service currently provided by JCSAT 2A, a platform launched in 2002 nearing the end of its life.
Once operational, officials plan to rename the new craft JCSAT 2B.
Hosting Ku-band and C-band transponders, the satellite will serve television broadcast, data networking and airborne and maritime Internet connectivity markets across Asia, Russia, Oceania and the Pacific islands, according to SKY Perfect JSAT.
Before Friday's launch, the company had 16 communications craft in operation. It says it is the fifth largest commercial telecom satellite operator in the world, measured by revenue, and the biggest in Asia.
The new satellite will enhance SKY Perfect JSAT's "OceanBB" broadband connection service for vessels in the South Pacific, and offers significant expansion of C-band coverage in the company's overseas market.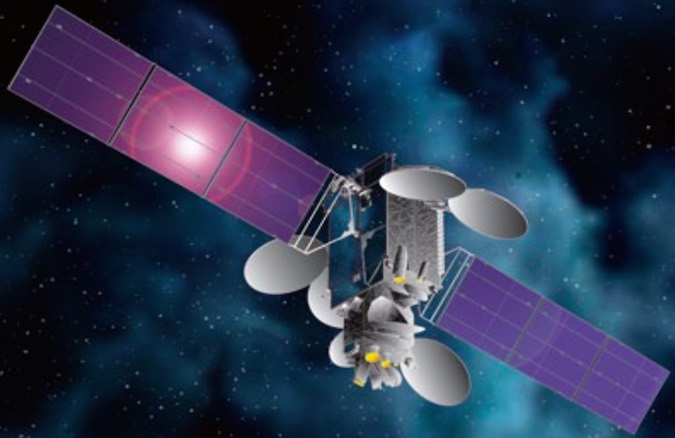 "By tripling the C-band transmission capacity, we will expand the coverage area from Asia, Australia and New Zealand to Russia and the Pacific region, thereby accelerating our efforts to capture global needs," SKY Perfect JSAT said in a report detailing JCSAT 14's capabilities.
SKY Perfect JSAT has two more satellites under construction for launches later this year. The JCSAT 16 spacecraft is due for liftoff on a SpaceX Falcon 9 rocket from Cape Canaveral as soon as August, the company said, and JCSAT 15 is contracted to fly aboard a European Ariane 5 launcher later this year.
SpaceX has up to four more Falcon 9 flights planned before the end of June — three from Cape Canaveral and one from Vandenberg Air Force Base in California — as the launch provider ramps up its mission cadence.
As many as 18 SpaceX launches are planned in total this year, with four already in the books.
The next Falcon 9 flight is scheduled for no earlier than May 26 with the Thaicom 8 communications satellite. The launch window that day will open at approximately 5:40 p.m. EDT (2140 GMT).
Email the author.
Follow Stephen Clark on Twitter: @StephenClark1.
Source: You'll find lots of information about the planets Mercury, Venus, Earth, Mars, Jupiter, Saturn, Uranus and Neptune. Also we have facts about the space station, ISS, SpaceX launch, space program, and outerspace. Space Flight
6 May, 2016
Falcon 9 succeeds in middle-of-the-night launch

Posted in Space Flight and tagged Space News by cnkguy with no comments yet.