Hold-down test firing complete for next SpaceX launch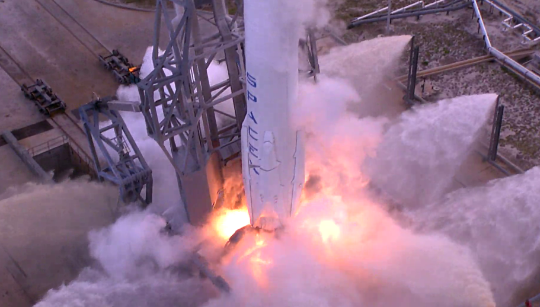 SpaceX technicians are attaching a Japanese communications satellite to the top of a Falcon 9 rocket ahead of a planned launch Thursday morning from Cape Canaveral.
The JCSAT 14 communications satellite, made in California by Space Systems/Loral, is fueled and encapsulated inside the Falcon 9 rocket's payload fairing. Workers were expected to connect the satellite with the launcher's second stage inside the Falcon 9 hangar as soon as Monday.
The rocket passed a key preflight test Sunday evening, when SpaceX's launch team fueled the Falcon 9 with super-chilled kerosene and liquid oxygen and fired its nine Merlin 1D first stage engines for several seconds at Cape Canaveral's Complex 40 launch pad.
Hold-down restraints kept the rocket on the ground during the brief static fire test, a customary all-up check of the Falcon 9 and its ground systems before the real countdown begins.
The static fire occurred without the mission's satellite payload on-board, and SpaceX planned to return the rocket to its hangar, where the JCSAT 14 spacecraft and the Falcon 9's nose cone were scheduled to be added.
The Falcon 9's fourth launch of the year is set for 1:21 a.m. EDT (0521 GMT) Thursday at the opening of a two-hour launch window.
There is an 80 percent chance of favorable weather for Thursday's launch attempt, according to the official launch forecast issued by the U.S. Air Force's 45th Weather Squadron.
A late-season frontal boundary is approaching Florida early the week, with rain and thunderstorms in the forecast for Wednesday.
"On Wednesday, more widespread rain and thunderstorms associated with the frontal boundary will move through the spaceport," forecasters wrote in the Air Force weather outlook. "A few of the storms may contain hail and strong winds. The front is expected to be south of the area, with conditions clearing by the launch window."
The primary weather concerns for Thursday morning are liftoff winds and the thick cloud rule, the Air Force weather team wrote in their forecast.
Email the author.
Follow Stephen Clark on Twitter: @StephenClark1.
Source: You'll find lots of information about the planets Mercury, Venus, Earth, Mars, Jupiter, Saturn, Uranus and Neptune. Also we have facts about the space station, ISS, SpaceX launch, space program, and outerspace. Space Flight
2 May, 2016
Hold-down test firing complete for next SpaceX launch

Posted in Space Flight and tagged Space News by cnkguy with no comments yet.