Hurricane Matthew passes by Cape Canaveral coastline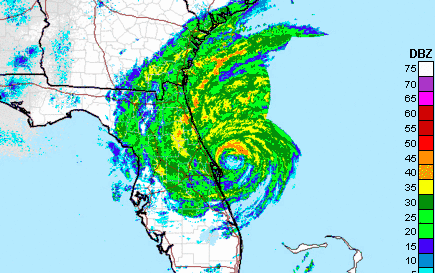 Hurricane Matthew slammed NASA's Kennedy Space Center, home to multiple launch pads and spacecraft assembly facilities, with wind gusts of more than 100 mph early Friday, but there were no immediate reports of significant damage at the spaceport as the storm passed just offshore.
The hurricane made its closest approach 25 miles east of Cape Canaveral around 6 a.m. EDT (1000 GMT) at a Category 3 storm, packing maximum sustained winds of 120 mph.
Radar imagery showed the western eye wall, containing some of Hurricane Matthew's strongest winds, passed over the eastern tip of Cape Canaveral before moving north, paralleling Florida's Atlantic coast.
"The wind is starting to decline but remains near tropical storm strength," said George Diller, a NASA spokesperson who rode out the storm with emergency crews at KSC's Launch Control Center, which used to manage space shuttle countdowns.
While a thorough assessment of conditions across the center will not begin until winds die down Friday afternoon or Saturday morning, Diller said there were no obvious signs of significant damage.
"At this time, there is observed to be limited roof damage to KSC facilities," Diller said. "Water and electrical utility services have been disrupted, and scattered debris is observed."
But the threat from storm surge, which was forecast to inundate low-lying parts of the space center with up to 9 feet of water, appeared to have diminished after KSC avoided a direct hit. Updated predictions just before Matthew passed by Cape Canaveral indicated the storm surge would raise the ocean level by 1 to 5 feet, with 8 to 12 inches of rainfall expected.
"Storm surge has been observed to be relatively minimal, limited to localized portions of the space center," Diller said.
According to NASA, Cape Canaveral had top sustained winds of 90 mph, with a gust to 107 mph.
Diller told Spaceflight Now a weather station at the 492-foot-level at KSC clocked a gust to 132 mph. When Hurricane Frances battered the space center in 2004, a sensor in the same location detected a gust to 102 mph.
Military officials in charge of Cape Canaveral Air Force Station reported minor damage Friday morning, before they could start an extensive damage assessment of the base.
"We can see roof damage. We still have flying debris," said Brig. Gen. Wayne Monteith, commander of the Air Force's 45th Space Wing, headquartered at Patrick Air Force Base around 20 miles south of Cape Canaveral.
"My concern for Patrick Air Force Base … remains the winds, but also the storm surge from the Banana River," Monteith said in an interview with the Weather Channel.
As of 11 a.m. EDT (1500 GMT), Monteith said weather stations at 300 feet and higher were still measuring winds gusting above 100 mph, even as Hurricane Matthew churned turned northern Florida.
Causeways leading to the barrier islands in Brevard County, where KSC is located, could re-open by early Saturday after authorities complete bridge inspections.
Two satellites awaiting launch at Cape Canaveral were protected from Category 4 hurricane-force winds, including a new NOAA weather observatory that was set for liftoff atop an Atlas 5 rocket Nov. 4 on a mission to drastically improve hurricane forecasting.
NOAA's GOES-R weather satellite is housed inside a clean room at the commercial Astrotech spacecraft processing facility on the mainland in Titusville, Florida, just west of Kennedy Space Center. Technicians earlier this week planned to construct a tent over the satellite to further protect it from water intrusion.
GOES-R is the next satellite scheduled for launch from Cape Canaveral.
An Air Force missile warning satellite, named SBIRS GEO Flight 3, rode out Hurricane Matthew in a clean room at Cape Canaveral Air Force Station, and military officials said the spacecraft was secured for the approach of the storm.
Other high-profile facilities at the spaceport include the 525-foot-tall Vehicle Assembly Building, now being outfitted to stack NASA's towering Space Launch System, a huge rocket for deep space missions scheduled for a debut test flight in late 2018.
The 400-foot-tall mobile launch platform intended for the SLS is parked just outside the VAB.
There are no rockets standing on any launch pads at Cape Canaveral, which has three active launch facilities and several more being reworked for future missions, all within a few hundred yards of the beach.
United Launch Alliance operates Complex 41 and Complex 37 for its Atlas 5 and Delta 4 boosters. SpaceX's primary Falcon 9 launch pad — Complex 40 — is temporarily out of commission after a rocket exploded during a ground test Sept. 1.
SpaceX leases the shuttle-era pad 39A from NASA, and the company is completing modifications to that facility to ready it for Falcon 9 launches while nearby Complex 40 is repaired. Before Hurricane Matthew's brush by the Space Coast, SpaceX aimed to have pad 39A operational by November.
Any impact the hurricane has on Cape Canaveral's launch schedule will be unclear until thorough inspections are possible this weekend.
Email the author.
Follow Stephen Clark on Twitter: @StephenClark1.
Source: You'll find lots of information about the planets Mercury, Venus, Earth, Mars, Jupiter, Saturn, Uranus and Neptune. Also we have facts about the space station, ISS, SpaceX launch, space program, and outerspace. Space Flight
7 Oct, 2016
Hurricane Matthew passes by Cape Canaveral coastline

Posted in Space Flight and tagged Space News by cnkguy with no comments yet.