Hydraulic pump glitch scrubs Pegasus launch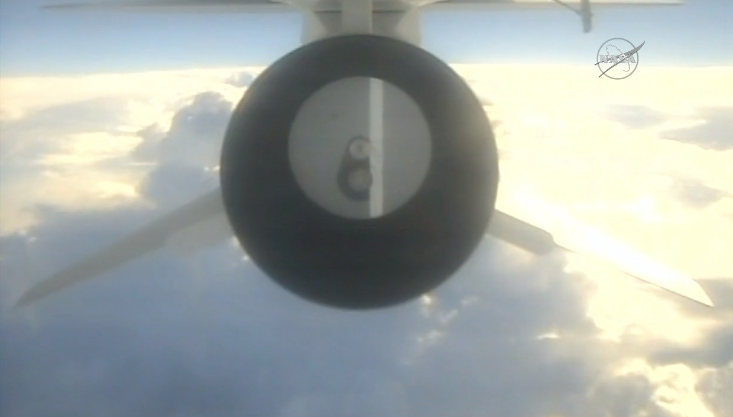 Trouble with a hydraulic pump needed to release Orbital ATK's air-launched Pegasus XL rocket from its carrier jet Monday postponed the deployment of eight NASA hurricane research satellites.
The crew aboard the rocket's L-1011 carrier aircraft, already airborne flying nearly 40,000 feet (12,000 meters) over the Atlantic Ocean northeast of Cape Canaveral, tried multiple power cycles and old-fashioned elbow grease to get the pump working, but the on-the-fly troubleshooting was unsuccessful.
Dodging thunderstorm cells that could have damaged the rocket's skin, the airplane's pilots flew through a predetermined 40-mile by 10-mile (64-kilometer by 16-kilometer) drop box twice in hopes of recovering the balky hydraulic pump and going ahead with the launch of NASA's $157 million Cyclone Global Navigation Satellite System.
The CYGNSS mission consists of eight microsatellites, each slightly larger than a piece of carry-on luggage, to study the winds deep inside hurricanes, measuring conditions currently unseen to satellites flying overhead.
"Just to give you a quick status, we have cycled all the circuit breakers several times, we've beat on the pump a couple of times, we have disconnected, reconnected the plugs a couple of times," one of the crew members reported to launch control. "We can hear the relay click, but the pump is not coming on."
The pump drives the mechanism to release the Pegasus XL rocket, and the launch team reported the unit was functioning during tests on the ground.
"It was not meeting the prescribed launch release pressures, indicating a problem with the hydraulic pump," said Tim Dunn, NASA's launch director for the CYGNSS mission. "Fortunately, we had a little bit of launch window to work with, so we did a lot of valiant troubleshooting in the air. As you can imagine, everyone wanted to preserve every opportunity to have another launch attempt today, so we did circle around the race track (flight pattern) once, resetting breakers on-board the aircraft, doing what we could in flight to try to get that system back into function again."
The 60-minute launch window extended until 9:19 a.m. EST (1419 GMT), but all the efforts in the air failed, and managers ordered L-1011 pilot Don Walter to return to base at Cape Canaveral Air Force Station's Skid Strip runway.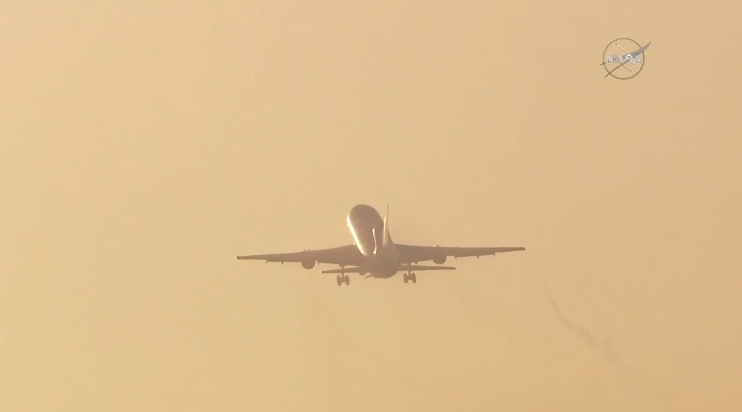 "So that's why didn't launch today," Dunn said. "(It is) a little bit disappointing for the team. Obviously, you'd love to go on the first attempt. We did battle a lot of weather today, and we were able to fly around, and over and under a lot of precipitation and bad clouds on the way out to the drop point. Fortunately, we've got a very dynamic system in Pegasus. It's a beautiful launch system to allow you that type of flexibility. However, just like any other launch vehicle system that we use, you do have hardware issues that crop up."
The aborts were the first after takeoff for a Pegasus mission since 2006, when one of the retention pins on the rocket's tail fins failed to retract in the final minute before launch.
That launch, which carried three NASA technology demonstration satellites into space, was delayed eight days to replace the pin and a control system battery, and to find another slot in the manifest at Vandenberg Air Force Base in California.
No such scheduling concern stands in the way of another Pegasus launch attempt off Florida's East Coast. Managers have already booked time on the U.S. Air Force's Eastern Range for a backup flight opportunity Tuesday, assuming the hydraulic pump issue is resolved in time.
The L-1011 carrier plane, one of the last such Lockheed-built jumbo sets still flying, landed back at Cape Canaveral's Skid Strip just after 9:30 a.m. EST (1430 GMT).
"We're going to safe all the systems on both Pegasus and the L-1011, and then we'll really be able to dig in and find out why this hydraulic system did not function as designed today," Dunn said.
"Ideally, we're going to get that resolved today," he said. "We've already made arrangements — we're all leaning forward — as if we can go tomorrow."
If NASA and Orbital ATK engineers can restore the hydraulic system to operation, Tuesday's launch window opens at 8:19 a.m. EST (1319 GMT) and closes one hour later. The drop box around 100 miles (160 kilometers) east of Daytona Beach remains fixed.
"We have the Range scheduled, so that will not be an issue," Dunn said. "Weather looks like it will be slightly better, so that looks like it won't be as troubling of an issue as it was today. Really, the open item is will we be able to resolve this hardware anomaly and then get our folks the necessary crew rest later this evening to get back on console in the early morning hours tomorrow."
Email the author.
Follow Stephen Clark on Twitter: @StephenClark1.
Source: You'll find lots of information about the planets Mercury, Venus, Earth, Mars, Jupiter, Saturn, Uranus and Neptune. Also we have facts about the space station, ISS, SpaceX launch, space program, and outerspace. Space Flight
12 Dec, 2016
Hydraulic pump glitch scrubs Pegasus launch

Posted in Space Flight and tagged Space News by cnkguy with no comments yet.