India's PSLV counting down to launch with 20 satellites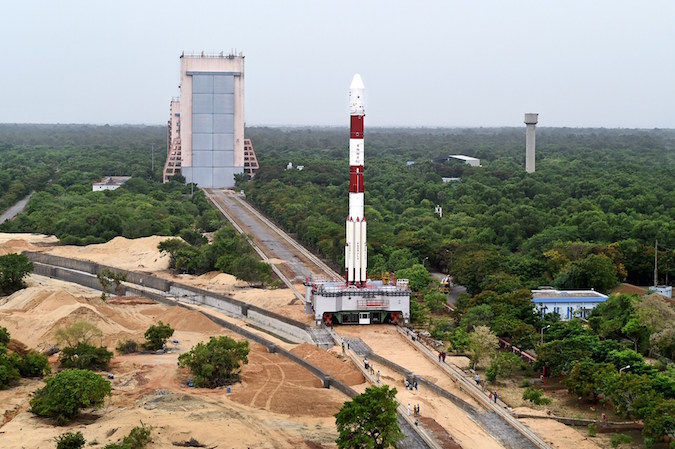 A Polar Satellite Launch Vehicle is set for liftoff early Wednesday with an assortment of payloads for the Indian military, domestic universities, and institutions and companies from Indonesia, Canada, Germany and the United States, including a pathfinder satellite for Google's Terra Bella Earth observation division.
The PSLV is counting down to launch at 0355 GMT Wednesday (11:55 p.m. EDT Tuesday) from the Satish Dhawan Space Center, India's primary spaceport situated on Sriharikota Island on the country's eastern coastline.
Launch is set for 9:25 a.m. local time in India, and the Indian Space Research Organization plans to webcast the flight. A video stream from ISRO will be embedded on this page beginning about 20 minutes prior to liftoff.
The 145-foot-tall (44-meter) rocket, boosted by six strap-on motors packed with 12 metric tons of solid propellant, will initially veer southeast from the launch base, then turn south once over the Bay of Bengal. The unusual trajectory, called a "dogleg" maneuver, is required to avoid flying over Sri Lanka.
Four of the strap-on motors will ignite at liftoff with the PSLV's solid-fueled core stage, then the last pair will fire at T+plus 25 seconds. Moments later, the PSLV will accelerate faster than the speed of sound.
The first four boosters will peel away at T+plus 70 seconds, followed by separation of the other pair at T+plus 92 seconds as the PSLV soars at an altitude of 29 miles (47 kilometers).
The PSLV's first stage motor will burn out and jettison at approximately T+plus 1 minute, 49 seconds. A fraction of a second later, the second stage's liquid-fueled Vikas second stage engine will turn on to continue the trip to space.
The Vikas engine will produce 180,000 pounds of thrust and burn 42 metric tons — more than 90,000 pounds — of hydrazine and nitrogen tetroxide propellants during two-and-a-half minutes of operation. The PSLV's heat shield, or payload fairing, will fall away in two halves at T+plus 2 minutes, 35 seconds, to reveal the 20 satellites packaged on top of the rocket.
A third stage solid rocket motor will ignite at T+plus 4 minutes, 22 seconds, at an altitude of 135 miles (217 kilometers). Finally, a twin-engine liquid-fueled fourth stage will assume control of the mission at T+plus 8 minutes, 17 seconds, for an eight-minute firing to reach the proper speed to enter a polar orbit 313 miles (505 kilometers) above Earth, according to the Indian Space Research Organization, which is in charge of PSLV missions.
The prime payload aboard Wednesday's launch, codenamed PSLV-C34, is a Cartosat 2 series Earth imaging craft to feed high-resolution mapping data to the Indian military, according to the Hindu newspaper, a leading English-language news outlet in India.
It will be the sharpest-eyed satellite ever launched by India, the Hindu reported, with the ability to resolve objects on the ground as small as 60 centimeters (2 feet).
The military-backed Earth observation satellite is similar to two previous civilian craft launched by India in 2008 and 2010, but the payload aboard Wednesday's PSLV flight will go into a lower orbit than the earlier satellites, yielding improved views of strategic targets around the world.
ISRO did not disclose the Cartosat 2 series satellite's capabilities or reveal a specific name for the imaging platform to be launched Wednesday.
With a launch weight of 1,604 pounds (more than 727 kilograms), the satellite carries visible cameras to capture black-and-white and color imagery during a five-year mission, according to ISRO.
The spacecraft is due to separate from the PSLV's fourth stage at T+plus 17 minutes, 7 seconds.
"The imagery sent by the satellite will be useful for cartographic applications, urban and rural applications, coastal land use and regulation, utility management like road network monitoring, water distribution, creation of land use maps, precision study, change detection to bring out geographical and manmade features, and various other Land Information System (LIS) and Geographical Information System (GIS) applications," ISRO officials wrote in an official brochure for Wednesday's launch.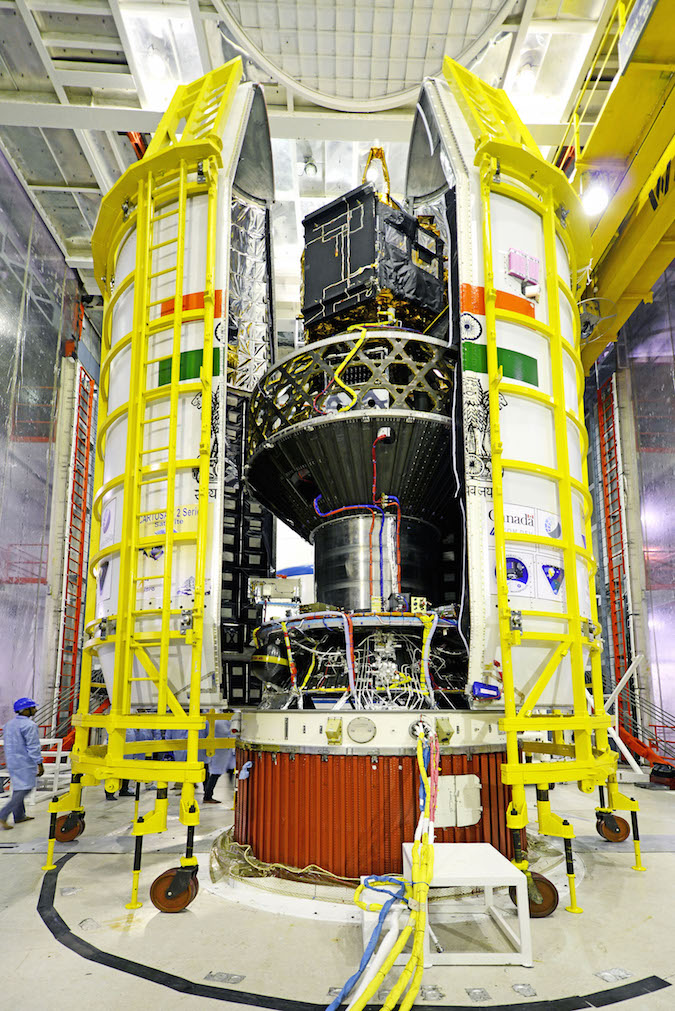 Once the largest satellite is cast away from the rocket, the upper stage will begin sending pre-programmed commands to release the other 19 satellites.
The secondary payloads include 13 satellites from the United States, continuing a trend of U.S. companies turning to India's PSLV to haul up small satellites. The first U.S.-made satellites launched on a PSLV mission last year after a decade-long ban introduced by the U.S. government to foster growth in the small satellite launch industry.
The purpose of the restriction, which is still in place, is to keep foreign government-backed rockets like the PSLV from snatching up payload launch contracts in an unfair price advantage with commercial launchers developed in the United States.
But no such rockets are currently commercially viable in the United States, with dedicated small satellite launchers still yet to be flown by companies like Virgin Galactic, Rocket Lab and Firefly Space System. Orbital ATK is lobbying for the right to a change in law to allow it to offer commercial launch services with surplus Minuteman and Peacekeeper missile stages, a capability now limited to flights with U.S. government satellites.
The Russian-Ukrainian Dnepr rocket program, which captured a significant share of the small satellite launch market over the last 15 years, has been halted by deteriorating relations between the those two nations.
Companies like Spaceflight Industries, a Seattle-based firm that arranges rideshare launch opportunities for small satellites, convinced the U.S. government to grant waivers for U.S. satellites to launch on PSLV missions starting last year. Antrix Corp., a state-owned company, is responsible for sales of PSLV rides on the international market.
The 13 spacecraft on Wednesday's PSLV launch include the first second-generation Earth observation satellite for Terra Bella, a Google company formerly known as Skybox Imaging. The 242-pound (110-kilogram) satellite, built in California's Silicon Valley by Space Systems/Loral, has an Earth-viewing telescope to capture sub-meter (less than 3-foot) resolution imagery and high-definition video clips as it sails around the planet in orbit.
The craft is the first of 13 Terra Bella SkySat satellites scheduled for launch this year. Four more satellites are under contract to Arianespace for will liftoff on a European Vega rocket from French Guiana as soon as September, and six SkySats will launch on an Orbital ATK Minotaur-C booster as soon as October from Vandenberg Air Force Base in California.
A dozen tiny Dove nanosatellites will also launch Wednesday on the PSLV.
Built and owned by Planet, a venture capital-financed company headquartered in San Francisco, the Dove satellites are about the size of a toaster oven, but they are packed with camera gear and processors to gather a nearly continuous stream of high-resolution images.
Planet has launched more than 100 satellites since 2013, primarily aboard resupply ships heading to the International Space Station, where the compact craft were deployed from a pod outside the research outpost.
"This is the first time the Doves will be launching on a PSLV, which will bring the total number of launch vehicle families utilized by Planet to seven, and 14 launches in total," Planet said in a statement. "The versatility in launch opportunities utilized by Planet speaks to the robustness of the Dove satellite design, and the benefits of CubeSat standardization. Our little Doves can fit in the nooks and crannies of just about any launch vehicle out there."
Two Canadian satellites are also stowed inside the PSLV's nose cone for launch.
One of the spacecraft, called M3MSat, has waited two years for a ride into space.
The 187-pound (85-kilogram) satellite was supposed to launch in mid-2014 on a Russian Soyuz rocket, but the Canadian government pulled M3MSat from the launch after Russia's annexation of Crimea. Canadian officials re-booked M3MSat for an Indian launch in 2015.
M3MSat is a joint project managed by the Canadian Space Agency and Defense Research and Development Canada, part of the country's Department of National Defense. The craft will test a new antenna to monitor ship traffic from orbit, instrumentation aimed at detecting static energy build-up in satellite electronics to improve the health and safety of future space missions.
The other Canadian payload on Wednesday's launch is a demonstration satellite for GHGSat Inc., a Montreal company which hopes to field a fleet of small spacecraft to monitor greenhouse gas output, supplying data to corporate customers who want to manage their emission rates. The company's first satellite, named GHGSat-D, is about the size of a microwave oven.
The BIROS satellite developed by DLR, the German Aerospace Center, to be launched Wednesday is equipped with an infrared detector to find forest fires. About the size of a large suitcase, BIROS will fly in formation with Germany's TET 1 satellite launched in 2012 to conduct tandem fire detection experiments as part of DLR's FireBIRD mission.
German engineers plan to release a sub-satellite named BeeSat 4 from the BIROS spacecraft some time after launch to test inter-satellite communications links. If BeeSat 4 is counted among PSLV's payloads, the satellite count on Wednesday's launch reaches 21 spacecraft, but the CubeSat will not be deployed directly from the rocket.
An Earth-observing microsatellite named Lapan A3 developed by Indonesia's National Institute of Aeronautics and Space is also included in the PSLV's multi-satellite payload.
Two CubeSats built by Indian university students round out the passengers on Wednesday's PSLV flight.
Email the author.
Follow Stephen Clark on Twitter: @StephenClark1.
Source: You'll find lots of information about the planets Mercury, Venus, Earth, Mars, Jupiter, Saturn, Uranus and Neptune. Also we have facts about the space station, ISS, SpaceX launch, space program, and outerspace. Space Flight
22 Jun, 2016
India's PSLV counting down to launch with 20 satellites

Posted in Space Flight and tagged Space News by cnkguy with no comments yet.