Iridium satellites rolling off assembly line in Arizona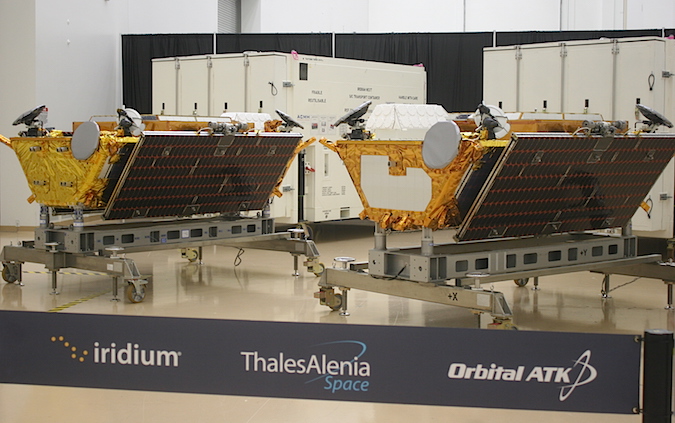 Construction is complete on the first batch of 81 new satellites to overhaul Iridium's mobile communications network, and the data relay stations will soon head from their factory near Phoenix to California's hilly Central Coast for launch in September on a SpaceX Falcon 9 rocket.
The satellites will be shipped in pairs on a truck to Vandenberg Air Force Base, where they will be fueled and mated with the Falcon 9 launcher for liftoff at 10:33 p.m. PDT on Sept. 11 (0533 GMT; 1:33 a.m. EDT on Sept. 12) from Space Launch Complex 4-East.
The flight will mark the third Falcon 9 launch from Vandenberg, and the first launch of an upgraded "full-thrust" version of the booster with higher-power Merlin engines and super-chilled propellants. SpaceX is finishing up modifications to the launch pad this summer to support the latest Falcon 9 configuration.
Launching 10 at a time, each Iridium satellite weighs about 1,896 pounds (860 kilograms). The satellites, combined with their specially-designed dispenser developed by SpaceX, will among the heaviest payloads ever launched by a Falcon 9 rocket.
Iridium declared the first two of its next-generation mobile communications satellites complete last month, with plans to finish assembly of one more spacecraft per week through late 2017.
"One a week is an amazing achievement of satellite production and something new in the world, and something that people are striving for in the future," said Frank Culbertson, president of the space systems group at Orbital ATK, which oversees final assembly of the Iridium Next spacecraft under an agreement with the satellite prime contractor Thales Alenia Space. "We're breaking new ground and setting a good example."
The Iridium Next program is a $3 billion investment by Iridium, according to Matt Desch, Iridium's chief executive officer. Iridium's purchase of 81 satellites represents approximately $2.2 billion of that cost, Desch said, and the company's launch contract with SpaceX for seven Falcon 9 flights was valued at $492 million when the parties signed it in 2010.
That was the largest commercial launch contract in history until last year's 21-launch order by satellite Internet provider OneWeb with Arianespace.
The first 10 Iridium Next satellites will fly on a Falcon 9 rocket in September, followed by a second launch as soon as December with the next batch. Iridium managers will give the go-ahead for the second launch once the first 10 satellites finish initial in-orbit tests, Desch said.
The other five launches should occur about once every two months next year, he said.
"It's going to be a very, very busy 18 months as many, many things have to happen literally hour-by-hour and day-by-day to make that happen, but I'm very confident and increasingly pleased with the progress made," Desch said last month during a media tour of the Iridium Next satellite factory in Gilbert, Arizona.
Iridium hoped to have the first 10 satellites in orbit by July, but Desch said the Air Force-operated range at Vandenberg was unavailable until September due to maintenance and upgrades.
"There's a big backlog of commercial and government customers they're trying to get off, and they're trying to fit all that in and do the best they can with it," Desch said. "It's a little disappointing. I thought it would happen a couple of weeks earlier, but still we're within the realm of time to get the whole network complete in 2017."
The first two satellites off the assembly line, numbered No. 1 and No. 3, were originally supposed to launch from Russia on a Dnepr rocket, a modified Soviet-era ballistic missile marketed for commercial launches by Kosmotras, a Russian-Ukrainian joint venture.
But with relations soured between those countries, the future of the Dnepr program is in doubt, and the Russian government has reportedly ordered a halt to future Dnepr launches. Iridium shuffled its launch schedule to begin launching the next-generation spacecraft on the Falcon 9, disrupting plans to initially place two pathfinder satellites in orbit for testing.
Desch said he is confident SpaceX will be ready to deploy the first 10 Iridium Next satellites in December. The company has a busy Falcon 9 launch manifest, with missions due at a rate of more than once per month, but the Iridium flight is the next SpaceX launch from Vandenberg.
"We're really on a separate queue out at Vandenberg, so we really are the priority for SpaceX out there, and they'll get us off as soon as Vandenberg lets us go," Desch said.
SpaceX officials said earlier this year that technicians are updating ground facilities at the Vandenberg launch site for the latest version of the Falcon 9, which stands about five feet taller and burns colder propellants.
Email the author.
Follow Stephen Clark on Twitter: @StephenClark1.
Source: You'll find lots of information about the planets Mercury, Venus, Earth, Mars, Jupiter, Saturn, Uranus and Neptune. Also we have facts about the space station, ISS, SpaceX launch, space program, and outerspace. Space Flight
13 Jul, 2016
Iridium satellites rolling off assembly line in Arizona

Posted in Space Flight and tagged Space News by cnkguy with no comments yet.