Juno spacecraft braves the unknown at Jupiter to enter orbit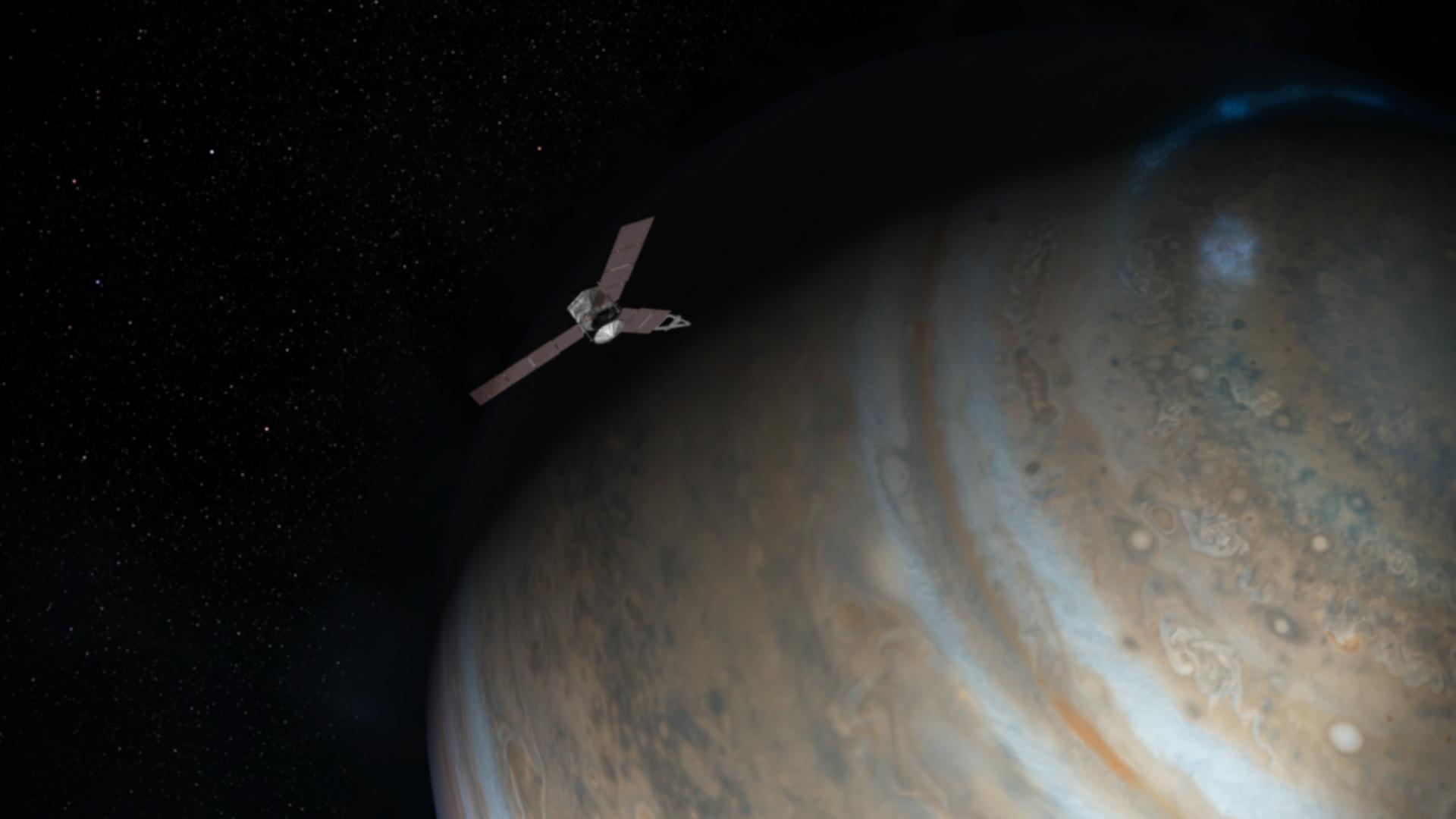 Setting up post at the king of planets, NASA's Juno spacecraft fired its main engine for 35 minutes Monday, steering into orbit around Jupiter to peer inside the gas giant and give scientists a better idea of how the solar system took shape 4.6 billion years ago.
Spinning on its axis once every 12 seconds, the probe's British-built rocket thruster ignited and slowed down Juno just enough to be snared by Jupiter's strong gravity field into a looping, 53-day-long orbit.
Confirmation of the burn's successful conclusion reached Earth at 11:53 p.m. EDT (0353 GMT) via a radio tone broadcast by Juno, prompting applause and smiles inside the control room at NASA's Jet Propulsion Laboratory in Pasadena, California.
"All stations… we have the tone for burn cutoff on delta-v," a ground controller said over a radio loop. "Welcome to Jupiter."
Powered by three solar panels arranged in a propeller-like pattern around Juno's main body, the Jupiter orbiter wrapped up a five-year, 1.7-billion-mile (2.8-billion-kilometer) trip with Monday's automated rendezvous with the solar system's biggest planet.
"Tonight, through tones, Juno sang to us, and it was a song of perfection," said Rick Nybakken, Juno's project manager at JPL. "After a 1.7-billion-mile journey, we hit our burn target within one second."
The record-setting journey made Juno the farthest spacecraft from the sun to ever rely on solar power, and Monday's maneuver made the $1.1 billion mission the second to ever orbit Jupiter.
Juno braved harsh radiation and dodged tiny particles of ice and dust from Jupiter's thin rings on its approach Monday, speeding over the planet's north pole and flying within 2,900 miles (4,667 kilometers) of the gaseous world's churning cloud tops, closer than any previous mission not on a trajectory to plunge into the atmosphere.
With Jupiter's gravity tugging it in, the spacecraft became one of the fastest space probes in history Monday, topping out at 130,000 mph, or more than 36 miles per second (58 kilometers per second), during the arrival sequence.
The unknowns going into Juno's Fourth of July encounter with Jupiter gave many scientists caution, and mission managers highlighted the risks ahead of the spacecraft's date with destiny.
But Juno performed like a champ Monday, according to initial data radioed back to Earth.
"We just did the hardest thing NASA's ever done! That's my claim," shouted Scott Bolton, Juno's principal investigator from the Southwest Research Institute in San Antonio, in excitement moments after the spacecraft's was verified in orbit.
Bolton leads an international science team seeking to use Juno's instruments to peel back the layers on Jupiter, revealing the dynamics of its deep atmosphere and the structure of its central core for the first time.
"Now the fun begins — the science," Bolton said.
Email the author.
Follow Stephen Clark on Twitter: @StephenClark1.
Source: You'll find lots of information about the planets Mercury, Venus, Earth, Mars, Jupiter, Saturn, Uranus and Neptune. Also we have facts about the space station, ISS, SpaceX launch, space program, and outerspace. Space Flight
5 Jul, 2016
Juno spacecraft braves the unknown at Jupiter to enter orbit

Posted in Space Flight and tagged Space News by cnkguy with no comments yet.