Managers set Oct. 13 for first Antares launch in two years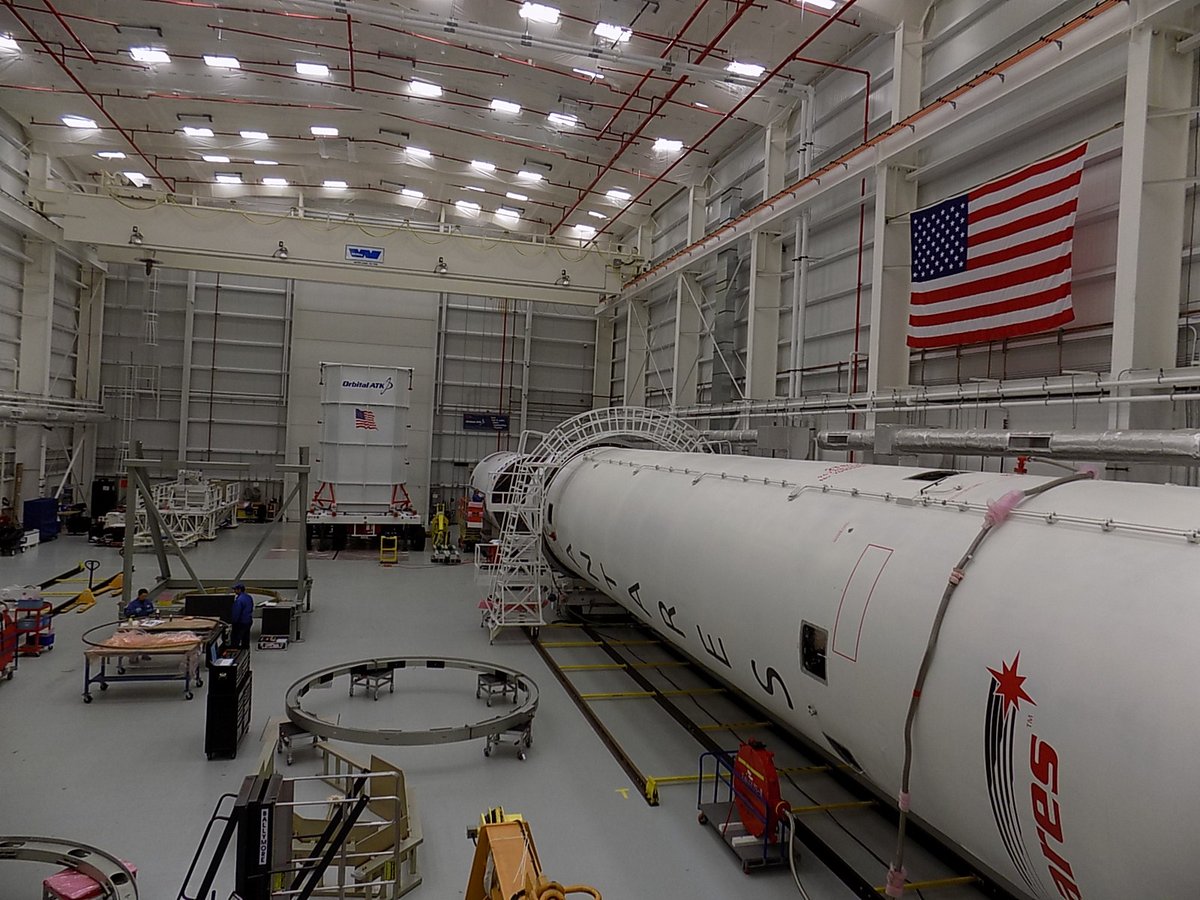 NASA and Orbital ATK officials have set Oct. 13 as the target date for the first Antares launch in nearly two years, giving approval for ground crews to load final cargo into the mission's Cygnus supply carrier heading for the International Space Station.
A flight readiness review Monday cleared the way for final launch preparations at Wallops Island, Virginia, leading up to liftoff Oct. 13 at 9:13 p.m. EDT (0113 GMT on Oct. 14).
"In preparation for the mission, final integration of the company's Cygnus spacecraft and Antares rocket is now underway, with roll out to the Mid-Atlantic Regional Spaceport's pad 0A anticipated to take place on Oct. 11," Orbital ATK said in a statement Tuesday.
This month's launch campaign is the first for Orbital ATK's Antares booster since a catastrophic launch failure on Oct. 28, 2014,  destroyed a Cygnus supply ship loaded with equipment for the space station. The mishap also damaged the Antares launch pad at the Mid-Atlantic Regional Spaceport, a facility owned by the government of Virginia at NASA's Wallops Flight Facility.
The nighttime launch Oct. 13 could be visible along the U.S. East Coast, including from metropolitan areas such as Washington, D.C., and New York.
"This schedule is subject to completion of all remaining pre-launch integration and testing activities and acceptable weather conditions prior to and during launch operations," Orbital ATK said.
Officials are monitoring the track of Hurricane Matthew, a Category 4 storm forecast to move near the East Coast later this week. The 2 p.m. EDT (1800 GMT) outlook from the National Hurricane Center predicted the cyclone will be just offshore Cape Canaveral early Friday, then move northeast and perhaps brush by Wallops Island this weekend.
Workers inside Orbital ATK's Horizontal Integration Facility at Wallops are installing "late load" cargo into the Cygnus spaceship's pressurized module this week. The final items destined to fly to the space station will be packed Thursday, followed by the closure of the spacecraft's hatch.
The Cygnus cargo craft — already fueled with toxic maneuvering propellants — will be attached to the Antares rocket's second stage Sunday, an Orbital ATK spokesperson said, then the ground team will cover the supply freighter with the launcher's 12.8-foot-diameter (3.9-meter) payload fairing.
Once the launcher is fully assembled, a crane will lift the Antares rocket onto an erector structure and a self-propelled transporter. Orbital ATK plans to transfer the rocket about one mile (1.5 kilometers) down a two-lane road to pad 0A on Oct. 11.
The Cygnus cargo mission, named OA-5, will deliver more than 5,000 pounds of equipment, experiments and provisions to the space station. It is the sixth of 11 Orbital ATK space station cargo missions scheduled through 2018 under contract to NASA. Orbital ATK and NASA have a separate contract for at least six additional cargo flights from 2019 through 2024.
The last two Cygnus spacecraft flew on top of United Launch Alliance Atlas 5 rockets from Cape Canaveral as Orbital ATK modified already-built Antares booster stages for a new engine package.
Orbital ATK switched to a new type of engine — the RD-181 powerplant from Russia's NPO Energomash — in the aftermath of the 2014 launch failure, which the company blamed on a fault inside the liquid oxygen turbopump on one of the AJ26 engines that previously powered Antares launchers.
The AJ26 engines — known as NK-33s in Russia — were built in the 1970s for the Soviet Union's ill-fated N1 moon rocket, then imported to the United States by Aerojet Rocketdyne in the 1990s.
The RD-181 engine, based on the the RD-171 and RD-180 engines flying on Zenit and Atlas 5 rockets, is manufactured new and burns the same kerosene and liquid oxygen propellant mix as the AJ26. Both engines produce approximately the same level of thrust, minimizing changes to the Antares rocket's first stage structure to accommodate the new propulsion system.
The Antares rocket configuration with RD-181 engines and an upgraded U.S.-made Castor 30XL upper stage is known as the Antares 230.
While the space station has plenty of food, water, experiments and other provisions, NASA officials are eager for the Antares rocket to resume flights as all of the research outpost's other servicing vehicles are facing delays.
SpaceX's Falcon 9 rocket, which launches the company's Dragon cargo craft, is grounded after a launch pad explosion Sept. 1, and Dragon resupply missions to the space station may not start up again until early next year.
The Japanese HTV cargo freighter was supposed to blast off Sept. 30 with several tons of supplies, including new lithium-ion batteries for the space station's electrical system. But that launch has been delayed until at least December after Japanese engineers discovered a leak during an air tightness test in August.
And a Soyuz crew capsule that was supposed to launch Sept. 23 with three new space station residents will not lift off until at least Oct. 19 after Russian workers discovered a technical problem on the vehicle.
The Soyuz delay will likely push back the launch of Russia's next unpiloted Progress cargo freighter from Oct. 20 until late November or early December.
Email the author.
Follow Stephen Clark on Twitter: @StephenClark1.
Source: You'll find lots of information about the planets Mercury, Venus, Earth, Mars, Jupiter, Saturn, Uranus and Neptune. Also we have facts about the space station, ISS, SpaceX launch, space program, and outerspace. Space Flight
4 Oct, 2016
Managers set Oct. 13 for first Antares launch in two years

Posted in Space Flight and tagged Space News by cnkguy with no comments yet.