Orion capsule put under pressure in Florida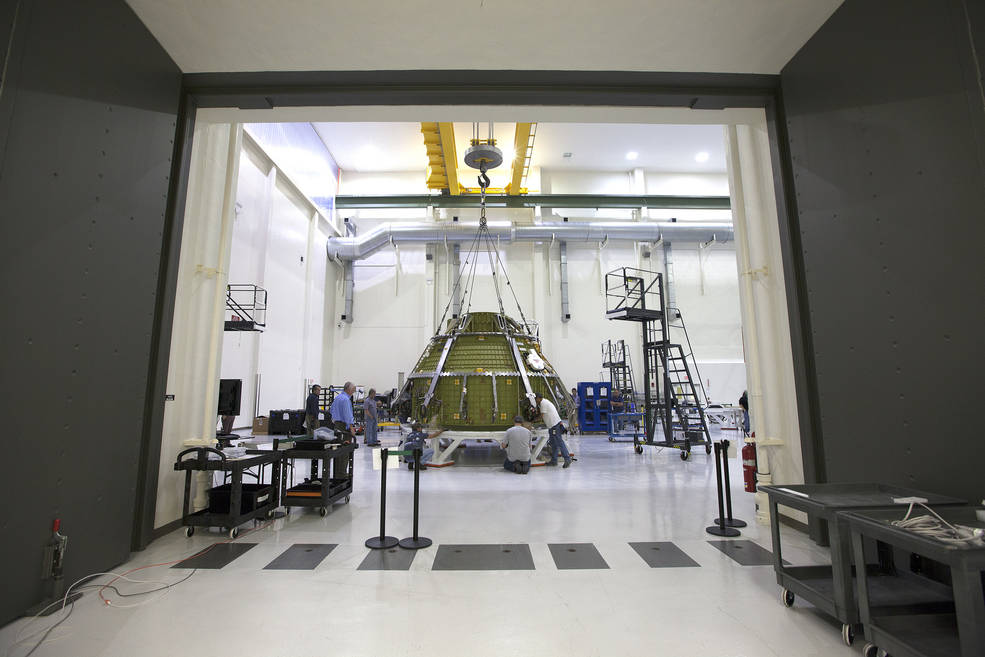 The skeleton of NASA's next Orion capsule, set for launch in late 2018 on a test flight to lunar orbit without astronauts, has passed a pressurization test at the Kennedy Space Center in Florida.
The next step will be outfitting the capsule with fuel tanks, propellant lines, command and control computers, and other systems in the run-up to its liftoff on a nearly three-week mission to lunar orbit and back to Earth.
Exploration Mission-1, or EM-1, will blast off from launch pad 39B at the Kennedy Space Center aboard the Space Launch System, NASA's future heavy-lift rocket to take humans into deep space.
The olive-green pressure shell of the Orion spacecraft assigned to fly on EM-1 arrived at the Florida spaceport Feb. 1 for two-and-a-half years of assembly and testing inside the space center's Neil Armstrong Operations and Checkout Building.
Technicians welded the basic structure of the capsule at NASA's Michoud Assembly Facility in New Orleans before its delivery to Florida for final assembly.
The first step in Orion's EM-1 campaign was the proof pressure test, in which the capsule was pressurized to check the workmanship of the crew module's welds and the craft's response to the stresses of pressurization, according to NASA.
Engineers from Lockheed Martin, the Orion program's prime contractor, attached hundreds of strain gauges throughout the interior and exterior of the spacecraft, NASA said in a status update. Lockheed Martin completed the proof pressure test over a two-day period.
"We are very pleased with the performance of the spacecraft during proof pressure testing," said Scott Wilson, NASA manager of production operations for the Orion program. "The successful completion of this test represents another major step forward in our march toward completing the EM-1 spacecraft, and ultimately, our crewed missions to deep space."
Email the author.
Follow Stephen Clark on Twitter: @StephenClark1.
Source: You'll find lots of information about the planets Mercury, Venus, Earth, Mars, Jupiter, Saturn, Uranus and Neptune. Also we have facts about the space station, ISS, SpaceX launch, space program, and outerspace. Space Flight
15 May, 2016
Orion capsule put under pressure in Florida

Posted in Space Flight and tagged Space News by cnkguy with no comments yet.