Soyuz launch adds two more satellites to Galileo navigation fleet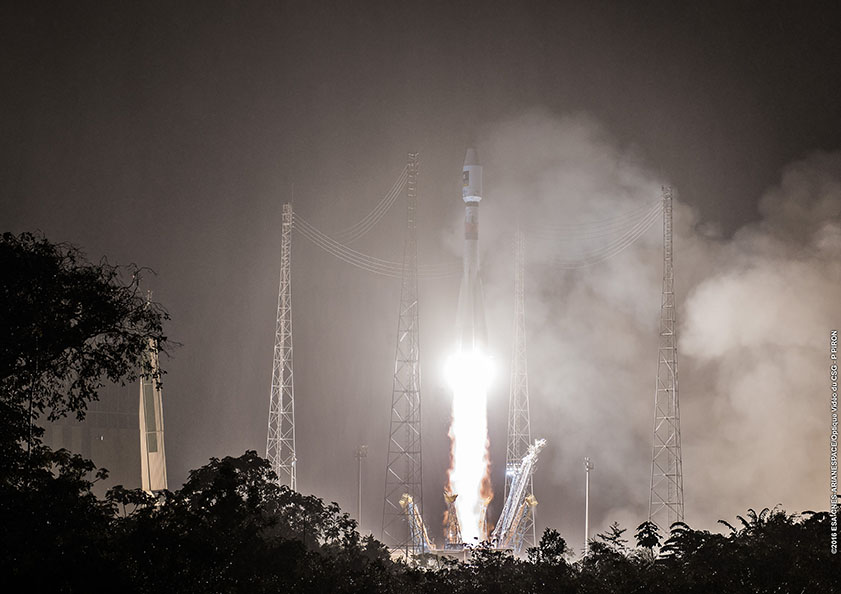 Two more Galileo satellites successfully catapulted into space from the French Guiana jungle aboard a Soyuz rocket Tuesday, putting Europe's multibillion-dollar navigation system on track to begin limited global service later this year.
Nearly five years into Galileo's operational deployment, the navigation system has hit a stride in satellite production and rocket launches long sought by European politicians and engineers who have worked on the ambitious project since its inception.
"We are now at cruising speed as far as deployment is concerned," said Paul Verhoef, director of the Galileo program and navigation-related activities at the European Space Agency, a senior partner on the space-based positioning project, which is led by the European Commission.
The successful launch Tuesday put the 13th and 14th satellites into the Galileo constellation, which needs 24 spacecraft for an unimpeded global reach and will eventually consist of 30 navigation stations in orbit, including spares.
Managers announced earlier this year the mission would be moved forward from early 2017 to this month to take advantage of a launch opportunity realized by the availability of the Soyuz booster and the two Galileo satellites.
Towering 151 feet (46 meters) tall, a Russian-made Soyuz rocket lit its kerosene-burning engines and fired into a cloudy predawn sky over the Guiana Space Center at 0848:43 GMT (4:48:43 a.m. EDT) Tuesday, wheeling northeast to put the two newest Galileo navigation satellites into orbit.
The rocket darted through low clouds and powered through the speed of sound as it ascended into the stratosphere.
Four liquid-fueled boosters, comprising the Soyuz first stage, jettisoned at about T+plus 1 minute, 58 seconds, to fall into the Atlantic Ocean. The Soyuz core engine, or second stage, kept firing for nearly three more minutes.
The Soyuz ST-B rocket's nose shroud released at T+plus 3 minutes, 39 seconds, once it flew into the ultra-thin outer layers of Earth's atmosphere.
The third stage's RD-0124 engine took control of the mission for more than four minutes, accelerating the rocket just shy of orbital velocity. The spent third stage separated about nine minutes into the flight, heading for a destructive re-entry, with surviving debris expected to fall into the sea off the southeast coast of Great Britain.
A Fregat-MT upper stage took over propulsion duties at T+plus 10 minutes, 24 seconds, for a 13-minute engine firing to loft the Galileo navigation payloads into a preliminary transfer orbit stretching from a low point several hundred kilometers above Earth up to an apogee, or high point, more than 14,000 miles (23,000 kilometers) in altitude.
Once the Fregat completed its first firing, the rocket coasted up to the altitude of the Galileo satellite fleet for a second burn that began more than three-and-a-half hours after liftoff.
The second Fregat burn was expected to last about 4 minutes, 22 seconds, and data beamed back to the upper stage's engineering team in Moscow indicated the critical maneuver occurred as planned.
The two 1,576-pound (715-kilogram) Galileo satellites, mounted side-by-side on a specially-designed adapter structure, deployed from the Fregat upper stage at 1236 GMT (8:36 a.m. EDT).
The Fregat's flight computer targeted a circular orbit with an altitude of 14,615 miles (23,522 kilometers) tilted 57.4 degrees to the equator. After reviewing data for a few minutes, officials said the orbit achieved by the launch was right on the mark.
"This new Galileo mission has been a full success," said Stephane Israel, chairman and CEO of Arianespace, the French company managing Soyuz launch services from French Guiana.
"Danielè and Alizée have been safely separated in their targeted medium Earth orbit," Israel said, referring to the nicknames of the satellites after children who won a painting competition organized by the European Commission in 2011.
"The satellites have successfully performed the initial steps of their launch and early orbit phase operations, so a big success today for Galileo, for Europe, and for all of us," Israel said.
The successful satellite deployment concluded the Soyuz rocket's 15th flight from French Guiana. Seven of those missions have been dedicated to the Galileo program.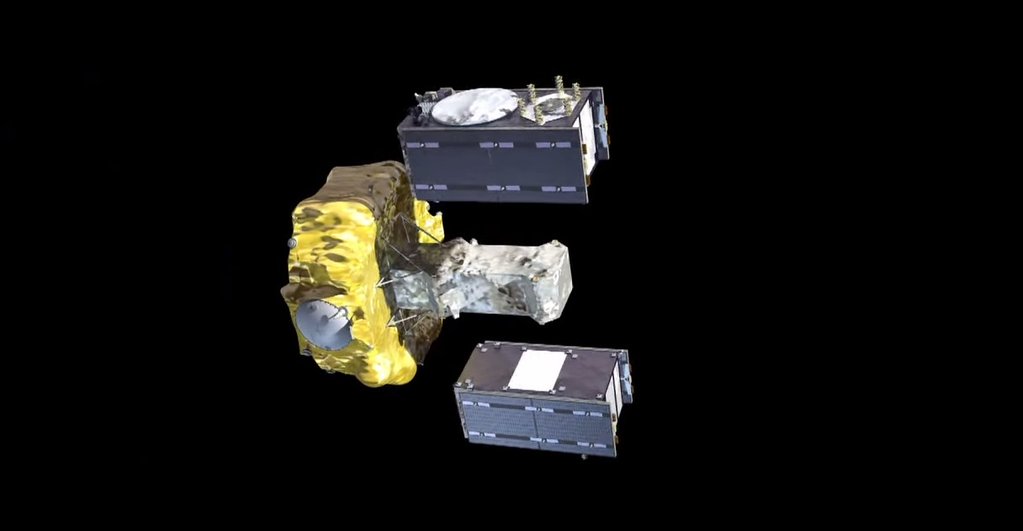 Made by OHB System of Bremen, Germany, the satellites will descend a few hundred kilometers under their own power to join the Galileo constellation in the next few months. Launches with Galileo payloads intentionally go into a slightly higher orbit to avoid littering the network with space junk.
When complete in 2020, signals from the Galileo system and the U.S. Air Force's next-generation GPS satellites will be fully compatible, giving users better positioning and timing accuracy and an independent backup navigation service.
The spacecraft launched Tuesday are assigned to Slot No. 2 and No. 7 in Plane A of the Galileo fleet, which will consist of three orbital pathways, each with eight operational satellites.
Verhoef said after the launch that the new spacecraft unfurled their power-generating solar panels shortly after separating from the Fregat upper stage.
"We now have a first determination of their orbit and their deployment status, and everything seems in order," Verhoef said.
The L-band navigation instruments aboard the satellites were produced by Surrey Satellite Technology Ltd. in the United Kingdom.
With Tuesday's launch, the Galileo fleet has received eight new satellites in the last 14 months. Four more spacecraft are on schedule for liftoff later this year, with an additional four satellites to launch in 2017 and 2018, giving the network 26 platforms in orbit within two-and-a-half years.
The European Commission has committed 7 billion euros, or nearly $8 billion, to the Galileo program through 2020. Some of that funding will go toward the purchase of at least new satellites later this year to become replacements and spares for the existing fleet.
The European Commission plans to begin Galileo's initial positioning and timing service with limited coverage before the end of the year.
"This launch marks a turning point in the Galileo program because now we move from a deployment focus to an operations and service focus," Verhoef said.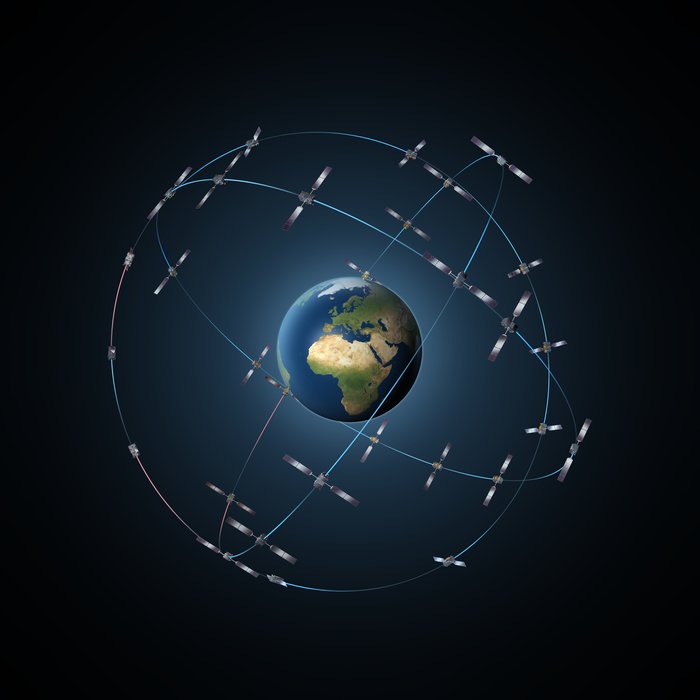 "The service that we intend to declare is the open service — the more common service — which can be used by citizen customers for all types of applications for localization and timing … which will be similar to the services the citizens are using when they are using GPS," said Philippe Jean, head of the Galileo directorate at the European Commission in Brussels.
The open service will have an accuracy of about 3 feet (1 meter) or less.
Each Galileo satellite carries a transponder to receive distress beacons, feeding critical data to search-and-rescue teams. That service will be available later this year, Jean said.
And Galileo's public regulated service, a secured signal aimed at European police agencies and customs officials, will also begin limited operations by the end of 2016, Jean told reporters Monday.
Several countries outside the EU have requested access to the regulated service, including the U.S. and Norwegian governments.
"The initial services will be anounced towards the end of the year," Verhoef said. "We need to have a minimum set of the constellation, and the ground segment in place, in order to do that. This is almost in place at the moment."
Verhoef said engineers are monitoring the performance of Galileo's satellites and ground support infrastructure to ensure all components are ready for the initial services.
"The results of that are very encouraging," Verhoef said, adding that the test campaign is only about half-complete to date.
Heavy-lifting Ariane 5 rockets will launch the next 12 Galileo satellites, carrying four craft at a time into orbit.
Verhoef said the first Ariane 5 launch for the Galileo program is currently set for Nov. 17.
A new type of satellite dispenser is needed to accommodate four Galileo satellites on a single Ariane 5 launch. It is in the final stages of testing at an Airbus Defense and Space facility in Bordeaux, France.
"Testing of the dispenser is currently ongoing," Verhoef said. "In parallel, the qualification of the launcher is ongoing. There are no concerns at the moment, so we seem to be on track for a November launch."
Galileo missions will fly on the Ariane 5ES version of the European launcher. That configuration features a second stage consuming storable hydrazine fuel with a re-ignitable Aestus engine.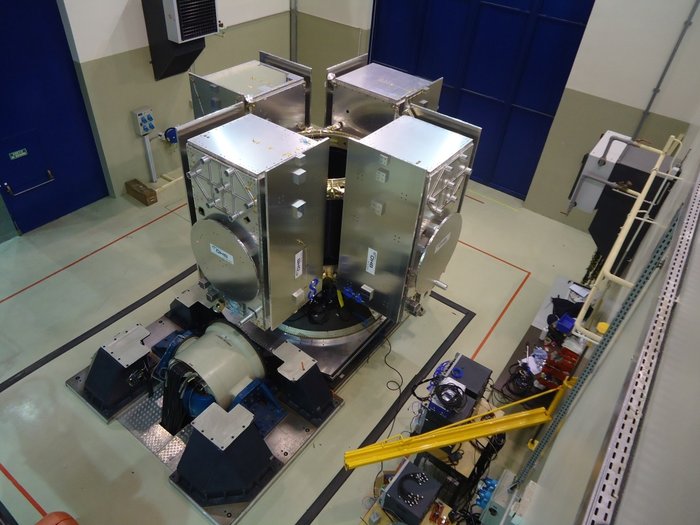 The Ariane 5 second stage must coast for more than three hours to inject the Galileo satellites into their circular high-altitude orbit, a capability not yet demonstrated in flight.
"This is a special configuration," Verhoef said. "A number of structural modifications need to be made to it, and a number of other things need to be done to it to do a long ballistic phase into the orbit that Galileo will be using.
"It is more that we had to adapt the launcher to the satellites than the other way around," Verhoef said.
The next launch planned by Arianespace is scheduled for June 8, when an Ariane 5 rocket will blast off with the EchoStar 18 television broadcast satellite to beam high-definition signals to millions of U.S. subscribers to DISH Network. A commercial satellite named BRISat will accompany EchoStar 18 on launch to support banking services in Indonesia.
Another Ariane 5 mission is set for July 12 with a Japanese military communications satellite and an Indian spacecraft to relay television programming.
The Soyuz rocket's next mission from French Guiana is scheduled for early 2017.
Email the author.
Follow Stephen Clark on Twitter: @StephenClark1.
Source: You'll find lots of information about the planets Mercury, Venus, Earth, Mars, Jupiter, Saturn, Uranus and Neptune. Also we have facts about the space station, ISS, SpaceX launch, space program, and outerspace. Space Flight
24 May, 2016
Soyuz launch adds two more satellites to Galileo navigation fleet

Posted in Space Flight and tagged Space News by cnkguy with no comments yet.