Space Launch System booster fired in final preflight qualification test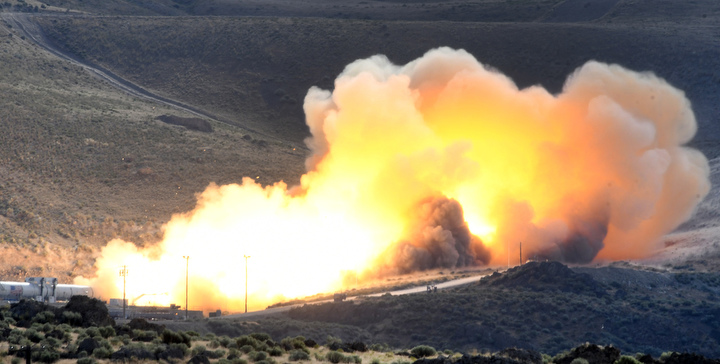 A solid-fueled rocket motor mounted on its side on a Utah hillside ignited and powered up to more than 3 million pounds of thrust Tuesday in a final full-up test-firing before a similar booster helps propel NASA's huge Space Launch System away from Earth on a demonstration flight in 2018.
The 154-foot-long (47-meter) rocket lit at 11:05 a.m. EDT (1505 GMT) Tuesday, an hour later than planned after test technicians ran into trouble with a ground computer controlling the booster's countdown sequence.
Engineers resolved the problem after a short delay, and the rocket motor fired with a spectacular golden plume of nearly 6,000-degree Fahrenheit (3,300-degree Celsius) exhaust, launching a vast plume of smoke thousands of feet over the hillside at the booster's test site in Promontory, Utah.
Manufactured by Orbital ATK, the rocket consumed 5.5 tons of its pre-packed propellant per second, burning through 1.4 million pounds of powdered aluminum fuel, oxidizer and binding agent in a two-minute, six-second firing.
Engineers expected the booster — the most powerful solid rocket motor in existence — to generate approximately 3.3 million pounds of thrust, equivalent to more than 10 four-engine jumbo jets, said Kent Rominger, Orbital ATK's vice president of propulsion systems strategy and business development, before Tuesday's test.
Technicians chilled the solid propellant inside the 12-foot-diameter (3.6-meter) to about 41 degrees Fahrenheit (5 degrees Celsius) to test the booster's performance at cold temperatures, according to Alex Priskos, manager of the SLS boosters office at NASA's Marshall Space Flight Center in Huntsville, Alabama. Orbital ATK conducted a similar test-firing last year with the fuel heated to 93 degrees (34 degrees Celsius).
The cooler temperatures were predicted to diminish the booster's thrust from the 3.6 million force-pounds produced in warmer conditions. Such a change is within the booster's operating specifications, but engineers needed to quantify the difference to adjust the rocket's trajectory on a real flight.
A first glance at data collected on Tuesday's test showed the firing met all objectives, officials said.
"We've had a chance to look at just some very, very preliminary data … and everything looks great so far," Priskos told reporters after Tuesday's test firing. "We're going to be digging into the data a lot more as we go forward."
Tuesday's test was the fifth and final ground firing planned on the SLS booster before the heavy-lifter's first launch in 2018.
Email the author.
Follow Stephen Clark on Twitter: @StephenClark1.
Source: You'll find lots of information about the planets Mercury, Venus, Earth, Mars, Jupiter, Saturn, Uranus and Neptune. Also we have facts about the space station, ISS, SpaceX launch, space program, and outerspace. Space Flight
28 Jun, 2016
Space Launch System booster fired in final preflight qualification test

Posted in Space Flight and tagged Space News by cnkguy with no comments yet.