SpaceX hopes to sell used Falcon 9 boosters for as low as $40 million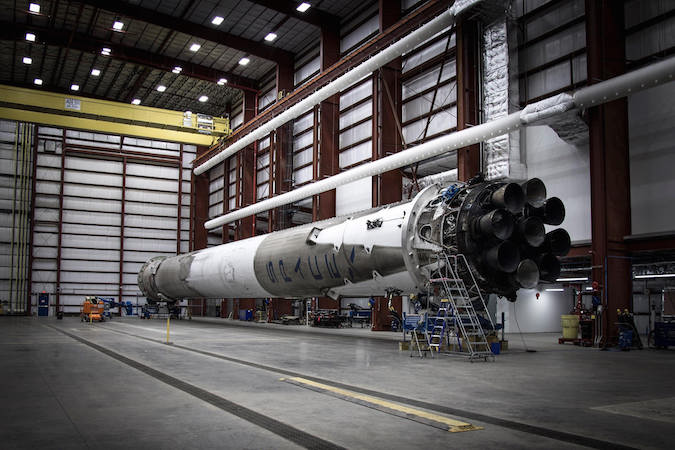 SpaceX intends to cut the price of a Falcon 9 rocket launch by up to 30 percent when flying with reused first stage boosters, an achievement the company still hopes to demonstrate before the end of the year, SpaceX's president said recently.
That figures to approximately $43 million per flight, a reduction from the Falcon's commercial rate of $61 million published on SpaceX's website.
Gwynne Shotwell, SpaceX's president and chief operating officer, said earlier this month that the company might fly a previously-flown Falcon 9 booster stage later this year.
She said the 15-story first stage booster that returned to Earth in December after a Falcon 9 launch with 11 Orbomm communications satellites weathered the up-and-down trip without major issues.
"The key is to design a system that you don't need to refurbish (between missions)," Shotwell said March 9 in a panel discussion at the Satellite 2016 industry conference and trade show near Washington, D.C.. "The key is for us to have zero refurbishment.
"Now, we've got to inch ourselves toward that, but I took a look at the vehicle that we landed in December … and you pull off the tunnel covers, and that wire harness is pristine," she said. "The metal is still shiny. You pull off the thermal protection system that we call the 'dance floor' near the engines, (and) that engine is beautiful. It's perfectly clean."
SpaceX engineers transported the flown rocket stage from its landing zone at Cape Canaveral Air Force Station a few miles north to the Falcon 9's Complex 40 launch pad for a brief engine firing in January, less than a month after its Dec. 21 flight for Orbcomm.
"Getting that stage back and taking a look at it, it was extraordinary how great it looked," Shotwell said. "In fact, we didn't refurbish it at all. We took a look at it and we inspected it (before moving it to the launch pad)."
SpaceX does not plan to fly that rocket again, and the company hopes to surmount troubles with landing the Falcon 9 first stage on an offshore recovery barge in the coming months. The Falcon 9 booster has not nailed a smooth touchdown on the football field-sized landing vessel in four tries.
The last two attempts failed due to a broken landing leg and an exceptionally high-speed descent, which was required after lifting the heavy SES 9 communications satellite into a lofty high-altitude orbit March 4.
Another barge landing attempt is expected after the next Falcon 9 launch April 8, which will haul a Dragon cargo ship into orbit for the International Space Station.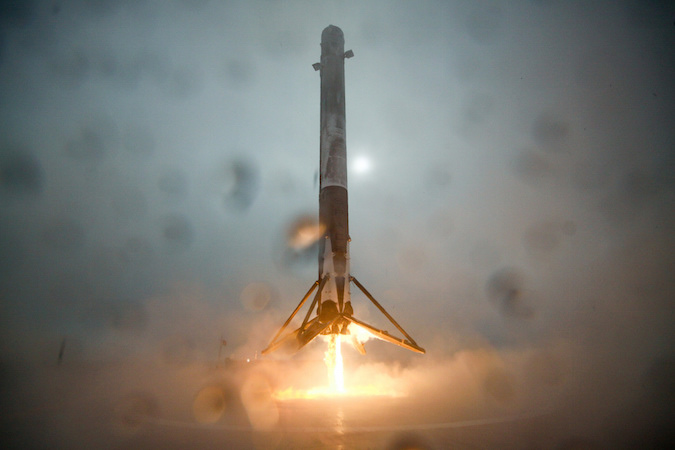 "The plan is obviously to try to recover every one," Shotwell said. "We won't recover every one. We didn't recovery the one from SES 9, although we didn't expect to either. The LEO (low Earth orbit) missions are relatively easy to recover. The GTOs (missions to geosynchronous transfer orbit) are more difficult, but it depends on the size of the satellite, of course.
SpaceX introduced an upgraded version of the Falcon 9 rocket with the Dec. 21 launch. The revised rocket configuration has larger fuel tanks and burns super-chilled, densified RP-1 kerosene and liquid oxygen propellants, allowing the launch team to pump more of the commodities into the launcher.
The Falcon 9's Merlin engines also operate at higher throttle settings.
Collectively, the changes allow the Falcon 9 to take heavier payloads into orbit, and still have enough propellant reserve to steer the first stage back to Earth for a controlled landing. For lighter satellites heading for orbits a few hundred miles up, the booster could return to a touchdown on land, while Falcon 9 missions with large telecom satellites going to orbits more than 22,000 miles above Earth will only have leftover fuel to continue on a ballistic arc toward a ship on station in the ocean.
Even then, communications satellites weighing more than 11,000 pounds, or 5 metric tons, push the Falcon 9's lift capability to its limits, making a landing maneuver a tougher technical challenge.
Shotwell offered a prediction at the landing success rate: "I think we'll probably recover 75 to 80 percent of the LEOs and 50 to 60 percent of the GTOs."
SpaceX wants to see more successful booster landings before setting prices for launches with used rocket components, but the price is sure to come down, Shotwell said.
"We obviously need to recover more, and see how many times we can recover the stage before we do that," she said. "My CFO (chief financial officer) would kill me, but the cost of the fuel is $1 million, or maybe even under $1 million. It would be great if the first stage was maybe just 2x or 3x (2 to 3 times the cost) of that."
The rocket's second stage, which has a vacuum-tuned Merlin engine, its own guidance system and flight computers, will still be expendable. The upper stages are left in orbit, or de-orbited to be destroyed in Earth's atmosphere after their missions are complete.
"There is obviously cost there," she said.
As for the price SpaceX hopes to bring to market?
"I'd like to see a 30 percent reduction probably from reuse," Shotwell said. "That would be great."
But one loyal SpaceX customer wants to see prices pushed even lower.
Karim Michel Sabbagh, CEO of SES, one of the world's largest satellite fleet operators, said March 8 at the same conference that his company wanted a reused Falcon 9 flight for half its current commercial rate — about $30 million.
SES chief technology officer Martin Halliwell told reporters at Cape Canaveral on Feb. 23 that SES is eager for the Falcon 9 to take the leap from recoverable to reusable.
"The answer is SES would have no problem in flying a reused first stage," Halliwell said. "Absolutely no problem. If it's flight-worthy, we're happy with that … We'll look at it from a technical point-of-view, and from a financial price point-of-view as well. If that all fits into our contract, we have no problem with that."
Halliwell said he does not expect SES to require a demonstration flight of a previously-flown booster before committing an expensive satellite to ride on it.
"I did put out as a challenge to SpaceX that we would be the first satellite operator that would use the same rocket twice to get to (geostationary) orbit," he said. "We discussed that with our investors, and they really liked that. It's something that I would really like to do."
Email the author.
Follow Stephen Clark on Twitter: @StephenClark1.
Source: You'll find lots of information about the planets Mercury, Venus, Earth, Mars, Jupiter, Saturn, Uranus and Neptune. Also we have facts about the space station, ISS, SpaceX launch, space program, and outerspace. Space Flight
31 Mar, 2016
SpaceX hopes to sell used Falcon 9 boosters for as low as $40 million

Posted in Space Flight and tagged Space News by cnkguy with no comments yet.