Tropical storm could be a factor in SpaceX launch Saturday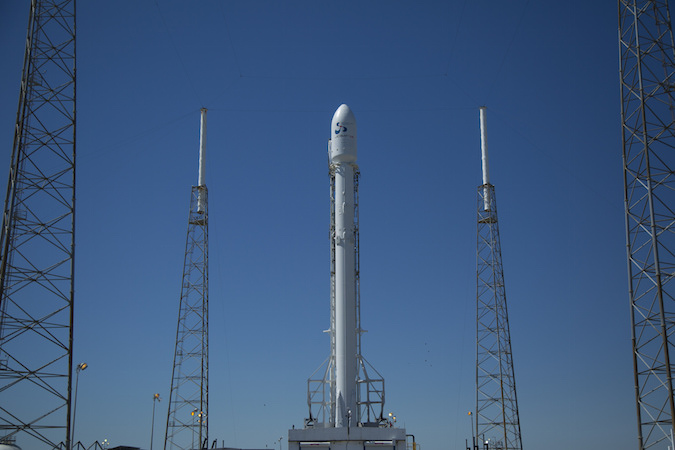 Weather forecasters at Cape Canaveral are keeping an eye on Tropical Storm Hermine in the Gulf of Mexico in case winds and thick clouds from the cyclone threaten the scheduled launch of a SpaceX Falcon 9 rocket early Saturday.
The Falcon 9 rocket is set for liftoff at 3 a.m. EDT (0700 GMT) Saturday from Cape Canaveral's Complex 40 launch pad. The launch window extends for two hours.
The Amos 6 communications satellite, a payload owned by Spacecom Ltd. of Israel, will be mounted to the top of the 229-foot-tall (70-meter) Falcon 9 rocket for the blastoff, heading into space for a 16-year mission supplying television services across Europe and the Middle East, and beaming broadband Internet across Africa in partnership with Eutelsat and Facebook.
Built by Israel Aerospace Industries, the satellite weighs approximately 11,574 pounds (5,250 kilograms) fully fueled for launch.
A hold-down firing of the rocket on the launch pad is scheduled as soon as early Thursday in a final major checkout of the Falcon 9 before liftoff.
The weather outlook for Saturday morning calls for mostly cloudy skies and isolated rain showers. In their official forecast released Tuesday, meteorologists from the U.S. Air Force's 45th Weather Squadron predict a 60 percent chance the conditions will violate one of the weather rules for the launch.
A low pressure in the Gulf of Mexico strengthened into a tropical storm Wednesday. As of 5 p.m. EDT (1800 GMT), Tropical Storm Hermine had maximum sustained winds of 45 mph (75 kilometers per hour) was about 350 miles (560 kilometers) west-southwest of Tampa, Florida, and slowly moving to the north-northeast.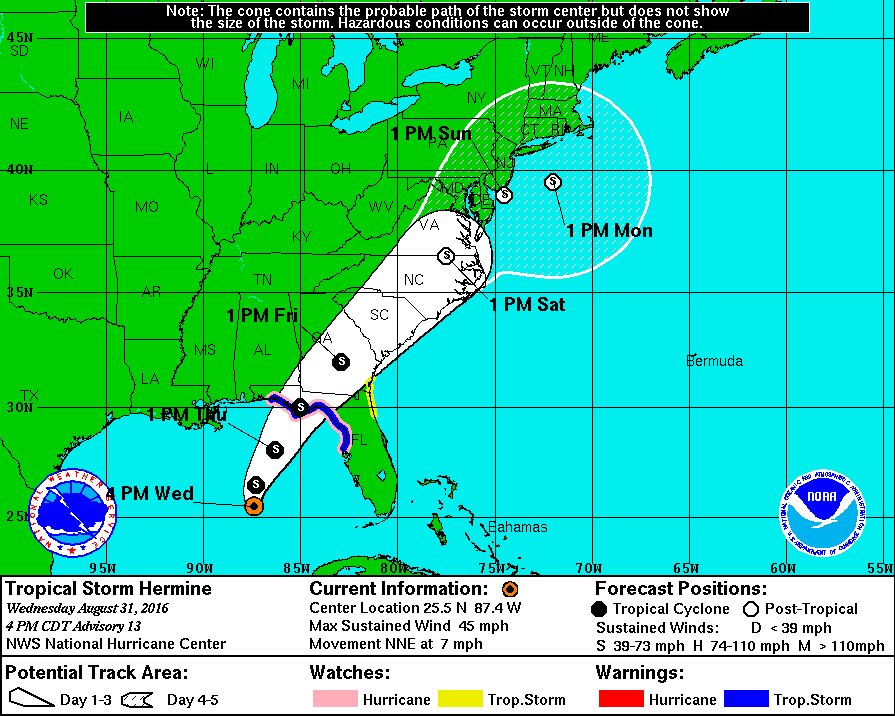 The National Hurricane Center predicts Tropical Storm Hermine will pick up speed toward the northeast Thursday and strengthen before making landfall in northwest Florida on Thursday evening. Official advisories issued Wednesday have shifted the predicted track of the tropical system westward from earlier forecasts.
The expected movement of Tropical Storm Hermine will take the worst of the weather away from Cape Canaveral, but thunderstorms, squall lines and tropical storm force wind gusts could still impact the Space Coast.
Widespread rain showers and storms associated with Tropical Storm Hermine were covering Central Florida on Wednesday as SpaceX ground crews prepared for the Falcon 9 rocket's prelaunch "static fire" test.
"The weather along the Space Coast will deteriorate late Wednesday and through the day on Thursday with widespread rain and isolated thunderstorms," the Air Force weather team wrote in their forecast. "Along with strong winds, these thunderstorms can create isolated tornadoes if associated with outer rain bands."
Conditions should improve Friday, but the risk of inclement weather will remain.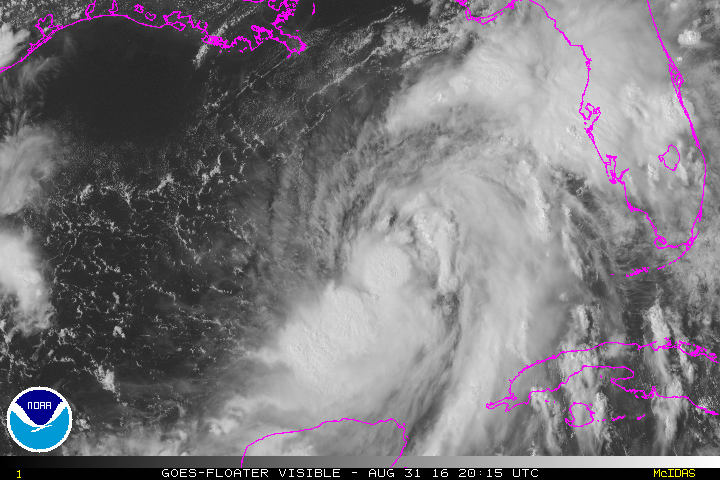 "The main weather concern for launch early Saturday morning is liftoff winds, if the storm is slower than forecast, and thick clouds associated with moisture trailing into the storm," meteorologists wrote.
The outlook calls for scattered clouds at 2,500 feet and broken cloud decks at 13,000 feet and 28,000 feet, northwest winds at 10 to 15 mph, and a temperature of 77 degrees Fahrenheit.
If the Falcon 9 flight is delayed to Sunday morning, the weather is forecast to improve, with a 40 percent chance of violating launch criteria.
The Falcon 9 rocket will deliver the Amos 6 satellite into a preliminary egg-shaped transfer orbit about a half-hour after liftoff. The rocket's first stage booster will fly itself back to Earth after its two-and-a-half minute burn, heading for a propulsive touchdown on SpaceX's barge in the Atlantic Ocean several hundred miles east of Cape Canaveral.
Saturday's launch will mark the 29th Falcon 9 launch since the privately-developed rocket's debut mission in June 2010, and the ninth Falcon 9 liftoff of the year.
Email the author.
Follow Stephen Clark on Twitter: @StephenClark1.
Source: You'll find lots of information about the planets Mercury, Venus, Earth, Mars, Jupiter, Saturn, Uranus and Neptune. Also we have facts about the space station, ISS, SpaceX launch, space program, and outerspace. Space Flight
31 Aug, 2016
Tropical storm could be a factor in SpaceX launch Saturday

Posted in Space Flight and tagged Space News by cnkguy with no comments yet.