Watch live: Blue Origin to fly reusable suborbital rocket for fourth time Sunday
Blue Origin's suborbital space transport system will make another test flight Sunday, launching and landing at the company's West Texas test facility and proving out the crew capsule's resiliency to a parachute failure.
The test flight also marks a change in public relations for the once-secretive company. It will be the first time Blue Origin has webcast once of its launches live.
The launch is set for 10:15 a.m. EDT (1415 GMT; 9:15 a.m. local time in Texas), and Blue Origin plans to begin its webcast about a half-hour before liftoff.
Watch the Blue Origin launch here.
The New Shepard, named for Mercury astronaut Alan Shepard, will launch powered by a hydrogen-fueled BE-3 engine generating 110,000 pounds of thrust, ascend to an altitude of more than 300,000 feet and separate its booster and crew capsule.
The unpiloted crew capsule will carry three scientific experiments from researchers in the United States and Germany, but the spacecraft will not carry test pilots until some time next year, according to Blue Origin, a company founded in 2000 by Amazon.com's Jeff Bezos.
On Sunday's flight, the crew capsule will prove its ability to safely land with a parachute failure, the company said.
The crew capsule carries three parachutes to touch down near the launch site in Culberson County, Texas.
"On this flight, we'll intentionally fail one string of parachutes on the capsule," Bezos wrote in an email update before the launch. "There are three strings of chutes and two of the three should still deploy nominally and, along with our retrothrust system, safely land the capsule.
"Works on paper, and this test is designed to validate that," Bezos wrote. "We'll also use this flight to continue pushing the envelope on the booster."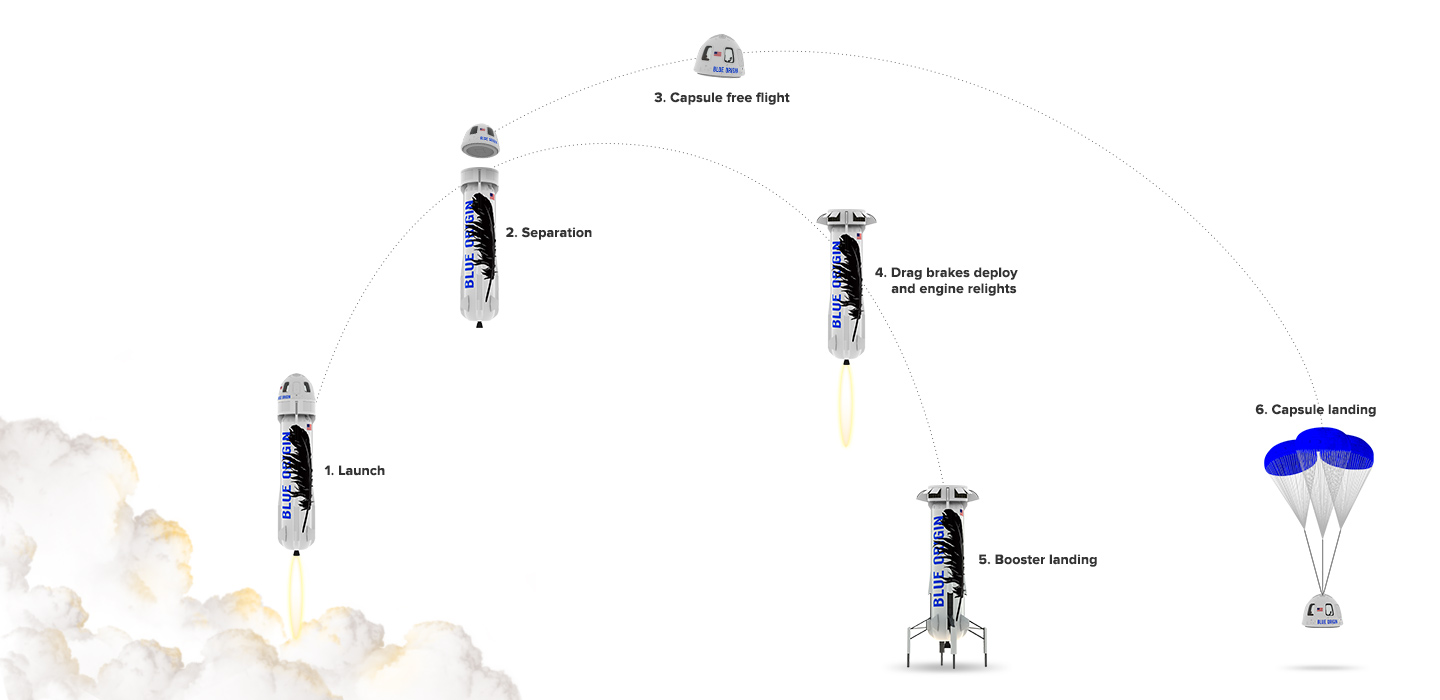 Blue Origin has never provided a live webcast of a test launch before. The company released highly-produced videos of previous flights after they were conducted in secrecy, but Bezos tweeted live updates on the last New Shepard mission in April.
The New Shepard system has flown four times in April 2015, November 2015, and in January and April this year. The first flight last year ended with a crash of the rocket on descent, but Blue Origin successfully recovered the suborbital booster after its last three launches.
Blue Origin aims to sell New Shepard rides to space tourists, researchers and commercial astronauts, while working on a larger orbital-class rocket to debut by the end of the decade. The company is also working on the 550,000-pound-thrust BE-4 rocket engine as the leading candidate to power the first stage of United Launch Alliance's future Vulcan launcher.
"As always, this is a development test flight and anything can happen," Bezos wrote.
Email the author.
Follow Stephen Clark on Twitter: @StephenClark1.
Source: You'll find lots of information about the planets Mercury, Venus, Earth, Mars, Jupiter, Saturn, Uranus and Neptune. Also we have facts about the space station, ISS, SpaceX launch, space program, and outerspace. Space Flight
19 Jun, 2016
Watch live: Blue Origin to fly reusable suborbital rocket for fourth time Sunday

Posted in Space Flight and tagged Space News by cnkguy with no comments yet.