Watch live: Chinese astronauts heading back to Earth
Two Chinese astronauts will close out a month in space Friday with a planned parachute-assisted landing in northern China's remote Inner Mongolia region, a day after the crew departed the Tiangong 2 space lab to begin the trip home.
The two-man team finished their experiments this week, a slate of tests and investigations aimed at a range of scientific and engineering disciplines, and cleaned up the Tiangong 2 module before closing hatches leading to their Shenzhou 11 space capsule, the ship they flew into space Oct. 16 atop a Long March 2F rocket.
Shenzhou 11 detached from the Tiangong 2 space lab at 0441 GMT Thursday (11:41 p.m. EST Wednesday). China has not officially disclosed the mission's landing time, but airspace closure notices point to a touchdown some time between 0533 GMT (12:33 a.m. EST) and 0613 GMT (1:13 a.m. EST) Friday.
Jing Haipeng, the mission commander, is wrapping up his third mission after setting the record for the most cumulative time in space by a Chinese citizen. Crewmate Chen Dong is concluding his first spaceflight.
Both are Chinese Air Force pilots selected for the country's astronaut corps.
The astronauts are coming back to Earth after completing China's longest piloted space mission to date, more than doubling the country's previous mark.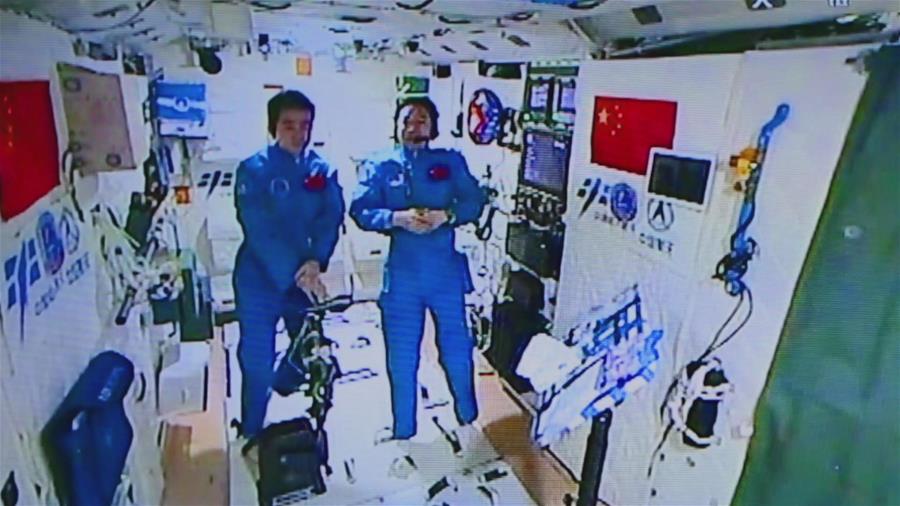 The 32-day flight will set the stage for China's planned space station, which could have its centerpiece module launched as soon as 2018, with part-time astronauts visits beginning soon after. The final pieces of the research complex, which will include the core module, two science labs and ports to receive robotic cargo ships and crew capsules, should be in orbit by 2022.
Once fully operational, the station will be able to host three astronauts for up to six months at a time, and perhaps six crew members for shorter durations.
China's Shenzhou spaceships are similar in design to Russian Soyuz spacecraft, with three major sections: a descent module housing the crew couches and cockpit controls, a habitation module containing living space, and a propulsion and commodities section with solar panels, rocket thrusters, and tanks for fuel, water and gases.
But the Chinese ship is slightly larger than the Soyuz, stretching about 30 feet (9 meters) long with a solar array wingspan of 55 feet (17 meters).
The timeline for Friday's re-entry and landing has not been released, but the Shenzhou 11 spacecraft should fire its rocket engines less than an hour before touchdown for a braking maneuver to drop out of orbit.
The habitation and propulsion sections, bolted forward and aft of the descent capsule, should separate soon after the deorbit burn. Both modules will burn up in Earth's atmosphere, while the landing segment is cocooned inside a protective heat shield.
Once the capsule passes the hottest part of re-entry, it will deploy a main parachute to slow down for the final descent to a landing zone in China's Inner Mongolia autonomous region, the same area where all previous Shenzhou crews have returned home.
Jing and Chen launched Oct. 16 from the Jiuquan space center in northwest China's Gobi desert. Their Shenzhou 11 spaceship made an automated docking with Tiangong 2, which launched a month earlier, on Oct. 18.
The duo lived and worked inside Tiangong 2 for a month, testing out exercise equipment, growing lettuce and subjecting their bodies to a regimen of blood draws and medical monitors to see how they responded to prolonged exposure to weightlessness, radiation and the rigors of spaceflight.
Email the author.
Follow Stephen Clark on Twitter: @StephenClark1.
Source: You'll find lots of information about the planets Mercury, Venus, Earth, Mars, Jupiter, Saturn, Uranus and Neptune. Also we have facts about the space station, ISS, SpaceX launch, space program, and outerspace. Space Flight
18 Nov, 2016
Watch live: Chinese astronauts heading back to Earth

Posted in Space Flight and tagged Space News by cnkguy with no comments yet.