Watch live: Indian launch set to round out domestic navigation network
Live video coverage from the Indian Space Research Organization begins at 0700 GMT (3 a.m. EDT).
India's Polar Satellite Launch Vehicle is set to blast off Thursday with the seventh and final spacecraft for a regional navigation system to provide position data to users across the subcontinent independent of foreign satellite systems.
The PSLV is scheduled to take off from the First Launch Pad at the Satish Dhawan Space Center on India's east coast at 0720 GMT (3:20 a.m. EDT), or 12:50 p.m. local time, Thursday.
The seventh member on the Indian Regional Navigation Satellite System — IRNSS 1G — will complete the deployment of an indigenous network of satellites thousands of miles above Earth to broadcast information about the location of users across India and neighboring territories.
The 44-meter (145-foot) rocket, augmented by six powerful solid rocket boosters, will fly east from the launch base on Sriharikota Island, a beachfront land mass about 80 kilometers (50 miles) north of the Indian city of Chennai.
The launcher is making its 35th flight — and the 13th mission in its most powerful PSLV XL configuration — since India's workhorse rocket debuted in 1993. Thursday's launch will mark the third PSLV flight of the year, as India executes launches at a record pace.
After firing away from India's spaceport and turning east over the Bay of Bengal, the PSLV will shed four of its boosters 70 seconds after liftoff, followed by the release of the last pair at T+plus 92 seconds. The rocket's solid-fueled first stage will fall away T+plus 1 minute, 50 seconds, when the PSLV's liquid-fueled Vikas second stage engine will ignite for a burn of more than two-and-a-half minutes.
The PSLV's nose section, or payload fairing, will jettison at T+plus 3 minutes, 20 seconds, during the second stage engine firing.
Another solid rocket motor will light at T+plus 4 minutes, 23 seconds, at an altitude of 132 kilometers (82 miles), according to a mission timeline released by the Indian Space Research Organization.
A twin-engine hydrazine-burning fourth stage will inject the IRNSS 1G spacecraft into an elliptical "sub-geosynchronous transfer orbit" with an apogee, or high point, nearly 20,700 kilometers (nearly 13,000 miles) above Earth at an inclination of 17.86 degrees, according to ISRO.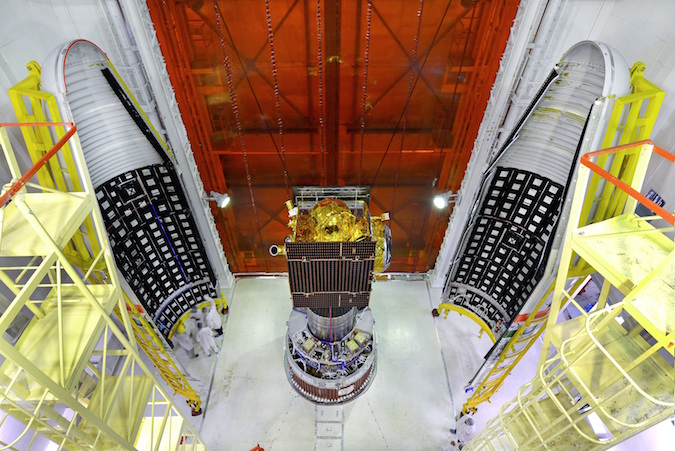 Separation of the IRNSS 1G satellite from the PSLV is scheduled about 20 minutes after liftoff. Engineers at ISRO's satellite ground station in Hassan, India, will take control of the spacecraft soon after the rocket's fourth stage releases it in orbit.
Solar panels on the 1,425-kilogram (3,141-pound) IRNSS 1G spacecraft will extend shortly after separation from the rocket to begin generating electricity for the satellite.
A rocket thruster on the satellite will boost it into a circular geosynchronous orbit at an altitude of more than 35,700 kilometers (about 22,300 miles), where it will join India's six other navigation satellites launched aboard PSLV missions since July 2013.
The seven-satellite navigation constellation will provide positioning services over a primary coverage area encompassing India and extending up to 1,500 kilometers (900 miles) from its borders.
India's next PSLV flight is scheduled for June with the Cartosat 2C Earth observation satellite and secondary payloads from the United States, Canada, Germany, Indonesia, Italy and Latvia.
Email the author.
Follow Stephen Clark on Twitter: @StephenClark1.
Source: You'll find lots of information about the planets Mercury, Venus, Earth, Mars, Jupiter, Saturn, Uranus and Neptune. Also we have facts about the space station, ISS, SpaceX launch, space program, and outerspace. Space Flight
28 Apr, 2016
Watch live: Indian launch set to round out domestic navigation network

Posted in Space Flight and tagged Space News by cnkguy with no comments yet.