Watch live: Resource-mapping satellite ready for launch from India
ISRO's live launch webcast will begin around 0425 GMT (11:25 p.m. EST).
India's Polar Satellite Launch Vehicle is counting down to launch early Wednesday with the country's third space mission dedicated to mapping natural resources from orbit.
The Resourcesat 2A satellite is set to ride the PSLV's 38th flight into orbit from the Satish Dhawan Space Center on Sriharikota Island, India's coastal spaceport on the shores of the Bay of Bengal about 50 miles (80 kilometers) north of the industrial city of Chennai.
The 36-hour countdown began Monday, and Indian officials reported late Tuesday that ground crews have filled the PSLV's second and fourth stages with their liquid propellants. The rest of the rocket's propulsion system consumes pre-packed solid fuel.
The 145-foot-tall (44-meter) PSLV XL rocket will light its first stage and four strap-on boosters at 0455 GMT Wednesday (11:55 p.m. EST Tuesday), and climb into the sky from the so-called "First Launch Pad" at Sriharikota on 1.7 million pounds of thrust.
The launch is scheduled for 10:25 a.m. Wednesday India Standard Time.
Two more solid rocket boosters will ignite around 25 seconds after liftoff at an altitude of around 9,000 feet (2,742 meters) to give the launcher an extra push.
The first four of the 39-foot-long (12-meter) auxiliary motors will burn out and jettison around 70 seconds after blastoff, followed by the release of the last pair of boosters at T+plus 92 seconds.
The PSLV's solid-fueled first stage will consume its solid propellants by T+plus 1 minutes, 50 seconds, giving way to the rocket's hydrazine-burning second stage Vikas engine around 46 miles (74 kilometers) above Earth for a firing scheduled to last about two-and-a-half minutes with around 180,000 pounds of thrust.
The rocket's on-board computer will begin closed-loop guidance during the second stage burn, and the PSLV's 10.5-foot-diameter (3.2-meter) payload fairing will fall away from the launcher at T+plus 2 minutes, 30 seconds.
The PSLV will first head east from the Indian space center, then turn south in a "dogleg" maneuver to avoid flying over Sri Lanka.
Once the Vikas second stage engine empties its 42-metric ton (90,000-pound) supply of hydrazine and nitrogen tetroxide propellants, the PSLV's third stage — another solid rocket motor — will ignite at T+plus 4 minutes, 23 seconds, for nearly two minutes, then coast until separating from the rocket's fourth stage at T+plus 8 minutes, 41 seconds.
The twin-engine liquid-fueled fourth stage will take control of the mission at T+plus 8 minutes, 51 seconds, for an eight-minute firing to reach the proper speed to enter the mission's targeted polar orbit.
Separation of Resourcesat 2A, the mission's only payload, is scheduled for T+plus 17 minutes, 55 seconds.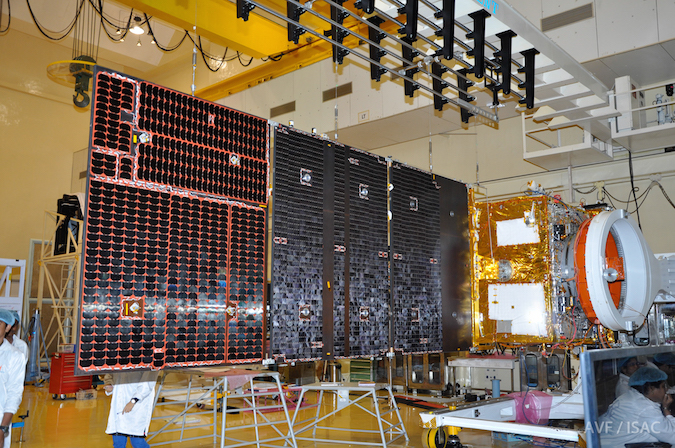 The Resourcesat 2A mission will track agriculture, water resources, soil contamination, and the growth of Indian cities. It is a follow-up to the Resourcesat 1 and Resourcesat 2 spacecraft launched by India in 2003 and 2011.
The PSLV will deliver the 2,722-pound (1,235-kilogram) Resourcesat 2A satellite to an orbit around 514 miles (827 kilometers high) at an inclination of 98.7 degrees, according to a mission overview document provided by the Indian Space Research Organization.
Designed for a five-year mission, Resourcesat 2A carries three cameras to take visible and near-infrared pictures, and India's space agency said the new craft will extend the data pipeline currently fed by Resourcesat 2.
Wednesday's launch will cap a record year for India's space program with the nation's seventh rocket launch of 2016 carrying satellites into orbit, coming after five previous PSLV missions and one launch of the more powerful Geosynchronous Satellite Launch Vehicle.
Email the author.
Follow Stephen Clark on Twitter: @StephenClark1.
Source: You'll find lots of information about the planets Mercury, Venus, Earth, Mars, Jupiter, Saturn, Uranus and Neptune. Also we have facts about the space station, ISS, SpaceX launch, space program, and outerspace. Space Flight
7 Dec, 2016
Watch live: Resource-mapping satellite ready for launch from India

Posted in Space Flight and tagged Space News by cnkguy with no comments yet.