Weather forecast favorable for Atlas 5 to launch NASA asteroid probe Thursday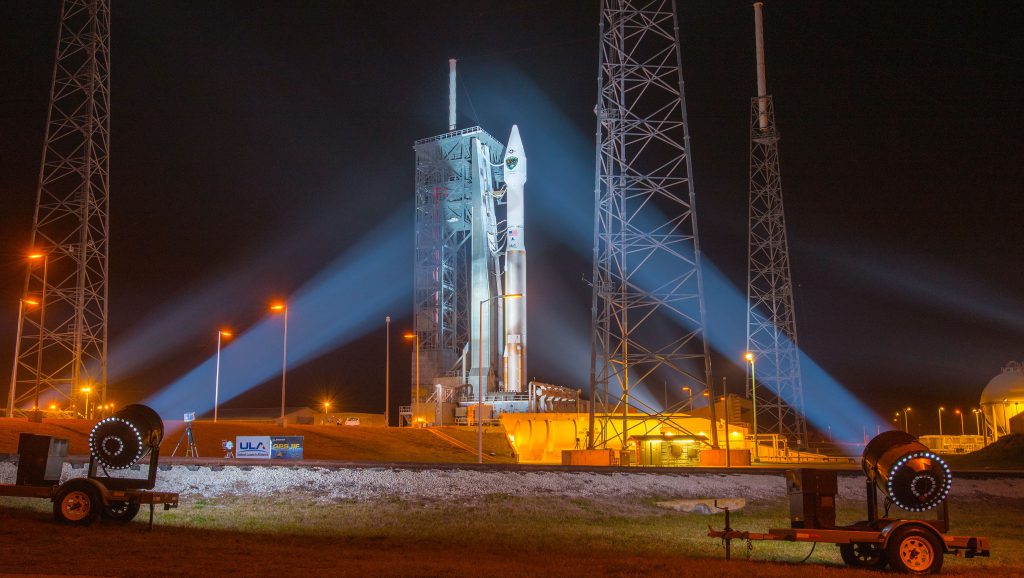 CAPE CANAVERAL — Prognosticators are predicting favorable weather conditions to launch an Atlas 5 rocket Thursday and send NASA's OSIRIS-REx spacecraft on its interplanetary journey to interrogate an asteroid and collect a surface sample for return to Earth.
The Air Force's 45th Weather Squadron at Cape Canaveral forecasts an 80 percent chance of acceptable launch conditions. The primary concerns for launch will be cumulus and anvil clouds.
The United Launch Alliance vehicle will have 24 split-second opportunities to launch, one coming every five minutes throughout a two-hour window from 7:05 to 9:00 p.m. EDT (2305-0100 GMT).
The flight will originate from Cape Canaveral's Complex 41. The rocket will be rolled from its assembly building to the pad on Wednesday morning.
The specifics for the launch window include scattered low- and high-level clouds, good visibility, winds from the east at 10 to 15 knots, a relative humidity of 80 percent and a temperature of 83 degrees F.
"Afternoon and evening thunderstorms continue to favor the interior with a coastal shower threat during the evening and overnight hours. Winds from the east with gusts in the mid to upper teens during the count. Upper level winds from the west will act to transport anvil cloud from interior thunderstorms back toward the East Coast," Air Force meteorologists said today.
If the launch slips to 24 hours for some reason, the two-hour window on Friday opens at 7:10 p.m. EDT (2310 GMT) with a 70 percent chance of acceptable weather.
"In the event of a 24-hour delay, moisture continues to recover with an increased coastal shower threat associated with an upper level trough. The primary concerns for a 24-hour delay are cumulus clouds and anvil clouds," forecasters report.
Given the time-critical nature of the launch, with only 34 days to depart Earth while the planet is aligned with Asteroid Bennu, the Air Force-controlled Eastern Range has reserved three consecutive days for OSIRIS-REx instead of the usual two days before negotiating for more, if needed.
Weather for Saturday's launch opportunity opening at 7:05 p.m. EDT (2305 GMT) calls for another 70-percent chance of meeting the criteria.
OSIRIS-REx will reach Bennu two years after launch, enter orbit around the mountain-sized space rock to use its instruments to intimately map the chemistry and terrain of the asteroid and select a target accessible and scientifically-rich sample site.
In the summer of 2020, the spacecraft will deploy its robot arm and grab up to four pounds of primordial surface material that could hold organics and the ingredients of life left over from the formation of the solar system.
After stowing the pristine soil into a contamination-free landing pod, the spacecraft will fly back to Earth and eject the canister to land in Utah on Sept. 24, 2023, completing a 4.4-billion-mile trek.
On Saturday, launch site workers completed special cleaning procedures on the vehicle. The precautionary task followed the nearby SpaceX rocket explosion that sent a dark cloud of smoke billowing toward the Atlas 5 rocket's assembly building for several hours Thursday.
Otherwise, it is a quiet holiday weekend for the OSIRIS-REx team. The next key event occurs Tuesday morning when the Launch Readiness Review is held.
"Spacecraft is healthy, Atlas 5 is ready, and team is in high spirits," mission leader Dante Lauretta tweeted on Saturday.
See earlier OSIRIS-REx coverage.
Our Atlas archive.
Source: You'll find lots of information about the planets Mercury, Venus, Earth, Mars, Jupiter, Saturn, Uranus and Neptune. Also we have facts about the space station, ISS, SpaceX launch, space program, and outerspace. Space Flight
4 Sep, 2016
Weather forecast favorable for Atlas 5 to launch NASA asteroid probe Thursday

Posted in Space Flight and tagged Space News by cnkguy with no comments yet.