Weather forecast looks good for Friday's Atlas 5 rocket launch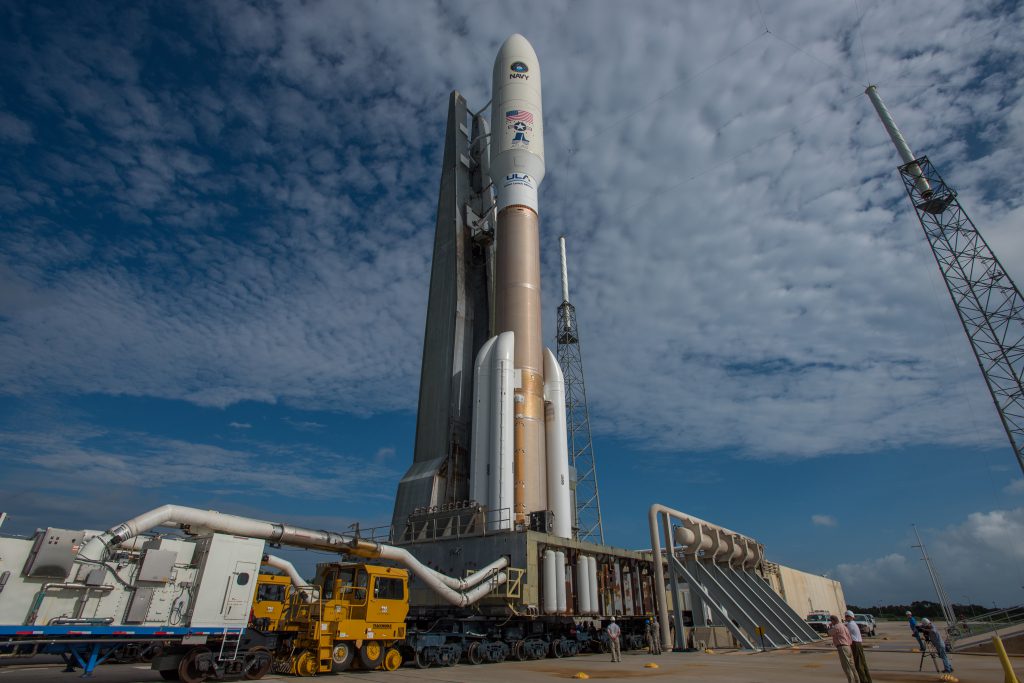 CAPE CANAVERAL — Air Force meteorologists are giving good odds of acceptable weather conditions for the United Launch Alliance Atlas 5 rocket to fly Friday morning from Cape Canaveral to put a Navy mobile communications satellite into orbit.
Liftoff from Complex 41 is scheduled during a 44-minute window stretching from 10:30 to 11:14 a.m. EDT (1430-1514 GMT).
In their initial launch weather outlook issued this morning, forecasters are concerned only about cumulus clouds. They say thunderstorms won't fire up until after the launch window ends.
There is an 80 percent percent of favorable conditions.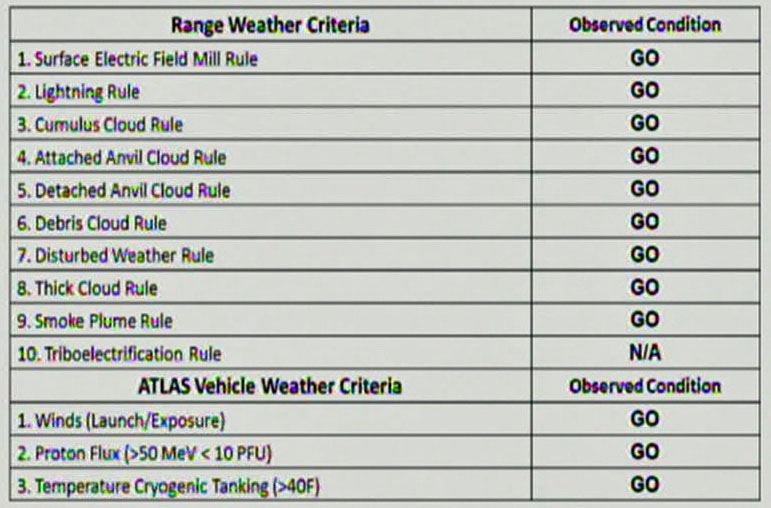 "For MLP roll Thursday, light southerly to southwesterly winds are expected through the roll period. By late morning and with diurnal heating, winds become on-shore as the seabreeze develops and serves as a focus for showers and isolated thunderstorms near the coast before transitioning inland by early to mid-afternoon," Air Force weather forecasters say.
"On launch day, similar conditions persist with late morning and early afternoon showers and isolated thunderstorms developing near the coast and migrating inland with the seabreeze early to mid-afternoon. Light southwesterly winds during the count become southerly during the window with gusts in the low teens."
The launch window specifics include just some scattered low- and high-level clouds, good visibility, southerly winds of 10 to 13 knots and a temperature of 85 degrees F.
If the launch slips to Saturday morning for some reason, similar conditions are expected with 80 percent odds of acceptable weather.
See earlier MUOS 5 coverage.
Our Atlas archive.
Source: You'll find lots of information about the planets Mercury, Venus, Earth, Mars, Jupiter, Saturn, Uranus and Neptune. Also we have facts about the space station, ISS, SpaceX launch, space program, and outerspace. Space Flight
20 Jun, 2016
Weather forecast looks good for Friday's Atlas 5 rocket launch

Posted in Space Flight and tagged Space News by cnkguy with no comments yet.