With Juno on Jupiter's doorstep, Hubble eyes glowing Jovian auroras
Peering a half-billion miles across the solar system, the Hubble Space Telescope has caught a glimpse of brilliant auroras flashing over Jupiter's north pole as NASA's Juno orbiter speeds toward the gas giant for a close-up look.
Part of Juno's multi-pronged scientific campaign is aimed to determining how Jupiter's auroras form and evolve.
The $1.1 billion mission carries instruments to observe the northern and southern lights in visible, infrared and ultraviolet wavelengths, plus plasma and magnetic field sensors to detect waves of charged particles funneling into Jupiter's poles, where they collide with atoms of gas and create a glow.
The promise of Juno is the simultaneous observation of the constant, but ever-changing, auroras with the flow of high-energy ions and electrons that trigger the polar light shows, according to Fran Bagenal, a co-investigator on the Juno mission from the University of Colorado at Boulder.
"We have this unique situation of uno flying over the poles, we look down on the aurora in the ultraviolet, the infrared, and in the visible with JunoCam, and then we will be able to also fly through the region where the charged particles are coming in and bombarding the atmosphere," Bagenal said. "So we'll be able to measure the acceleration processes that cause these auroral effects."
Hubble is watching Jupiter almost daily for one month to track changes in the planet's auroras. Scientists will compare the observations with Juno's measurements.
Ultraviolet images of Jupiter's northern auroras taken by Hubble's Space Telescope Imaging Spectrograph in May and early June were released Thursday.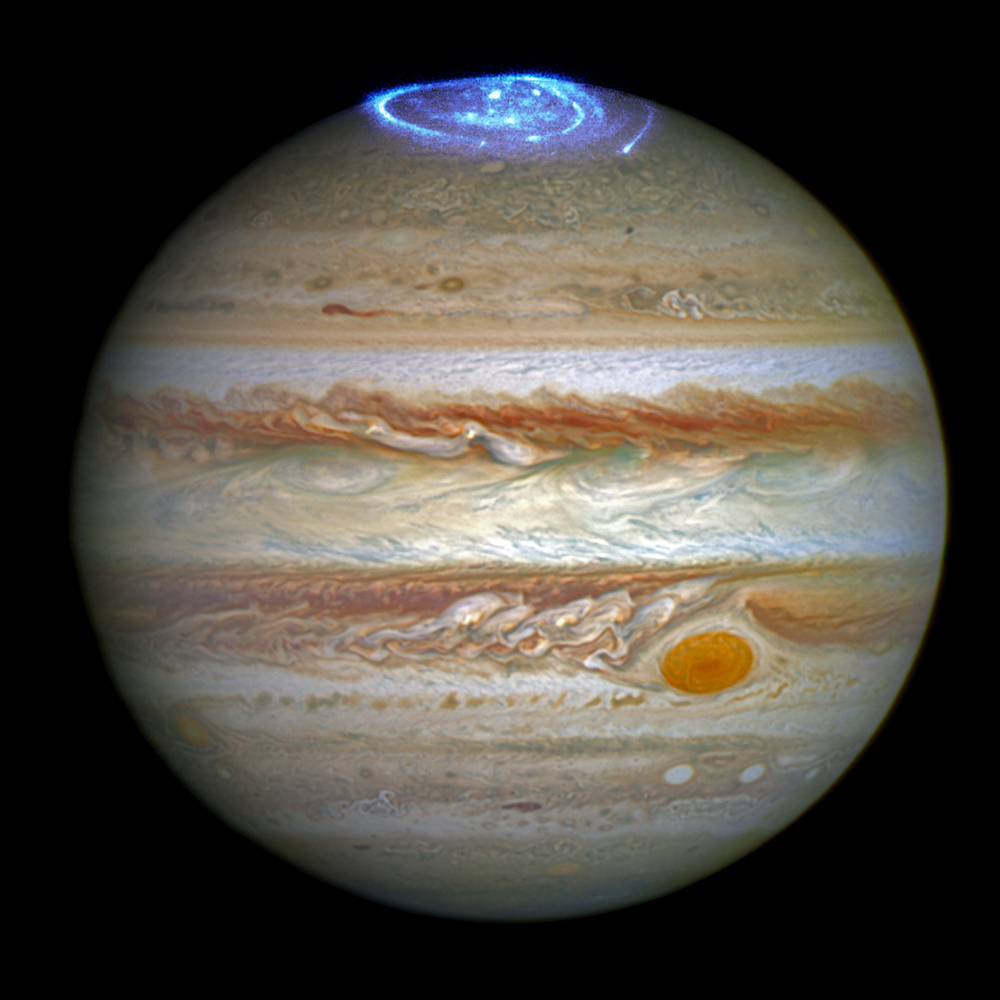 "These auroras are very dramatic and among the most active I have ever seen," said Jonathan Nichols from the University of Leicester, UK, and principal investigator of the study. "It almost seems as if Jupiter is throwing a fireworks party for the imminent arrival of Juno."
Unlike Earth's auroras, Jupiter's auroras never stop. They stretch across a swath of Jupiter nearly three times larger than Earth, according to Bagenal.
Scientists want to know what controls the flicker-like motion of Jupiter's auroras.
"Is it an internal effect or is it external?" Bagenal said.
Email the author.
Follow Stephen Clark on Twitter: @StephenClark1.
Source: You'll find lots of information about the planets Mercury, Venus, Earth, Mars, Jupiter, Saturn, Uranus and Neptune. Also we have facts about the space station, ISS, SpaceX launch, space program, and outerspace. Space Flight
30 Jun, 2016
With Juno on Jupiter's doorstep, Hubble eyes glowing Jovian auroras

Posted in Space Flight and tagged Space News by cnkguy with no comments yet.